After the UK chancellor's recent Spring budget Professor of Energy, Sara Walker, shares her thoughts on what this means for a net zero future.
In the UK we are facing an energy crisis.
We have a dependence on gas for heating and electricity, inefficient homes and hikes in wholesale energy prices - that's been driven further by the war in the Ukraine.
Not forgetting, the added pressures from the urgent need to address fossil fuel reliance due to climate change.
Now more than ever, energy - its affordability and security - are in sharp focus.
My role as an Energy Demand Research Champion means I'm dedicated to finding solutions to energy demand across different sectors and industry, as well as the wider society.
I listened intently to the UK's chancellor outline the Spring budget and have been unpacking what this means for the future of energy in the UK and achieving net zero by 2050.
What was announced to support energy bills?
The Government's support to household energy bills since October 2022 has comprised of an Energy Price Guarantee of £2,500 annual average bill, and an additional Energy Bills Discount Scheme of £400, for the typical home using gas and electricity.
The Energy Price Guarantee has been extended by 3 months in the 2023 budget, a welcome continuation for those it supports.
However, the Energy Bills Discount Scheme will end this March, and so an energy bill increase is on the way (see Figure 1).
The budget also proposes to align energy prices for those on direct debit and those on pre-payment meter. This policy measure has been proposed for some time, and could be significant for those households most likely to struggle with their energy costs. These measures are estimated to cost £3.5bn in 2023-24.

Figure 1. Annual average energy bill Oct 21-Jul 23, showing OFGEM Price Cap, and Government Energy Price Guarantee and Energy Bills Discount Scheme.
The difference between the black and red lines Oct-22 to Jun-23 represents the cost to the UK Government of reducing the average energy bill to levels significantly below the price cap.
Addressing the dual energy problem
Support for energy costs is, however, a sticking plaster over the dual problem of poor energy efficiency of our housing stock, and exposure to global gas prices for both our gas and our electricity.
Gas is used to generate around 40% of electricity for the UK, but because it is often the last generator type in the merit order for generation, gas power stations often set the electricity price (84% of the time according to research by UCL).
This is why the price of electricity and gas are strongly linked in the UK (see Figure 2). Carbon Tracker Initiative have estimated that charging the average price for wholesale electricity (instead of the price of the last unit in the merit order) would have made the UK energy bill in 2022-23 a whopping £7.2bn lower.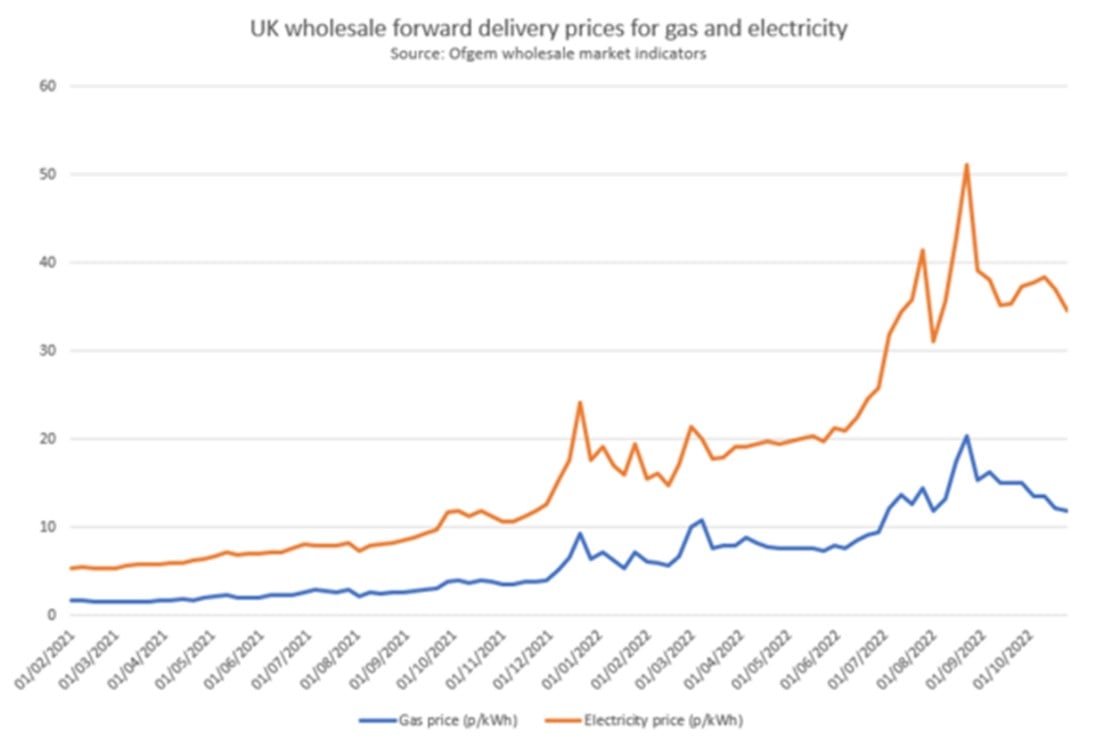 Figure 2. UK Wholesale gas and electricity prices, Feb-21 to Oct-22.
There is nothing in the budget on energy demand reduction, specifically through investment in energy efficiency for our housing stock in order to reduce household exposure to energy price rises.
What we do see is £20bn for Carbon Capture, Utilisation and Storage. We also have the 5p fuel duty cut extended another 12 months, at a cost of £5bn in 2023-24.
These two major costs to the public purse are enabling the continued use of fossil fuels, at a time when every single step towards our net zero targets is vital.
The Energy Demand Research Centre
Newcastle University is part of a major research initiative, the Energy Demand Research Centre.
The Energy Demand Research Centre will look at ways in which we can reduce our dependence on fossil fuels and improve the energy performance of our homes, our industry and our businesses.
The proposed Centre brings together a range of disciplines to tackle the complex questions:
of how to reduce energy demand
who can and should pay for demand reduction technologies
what governance is needed to deliver radical change in energy use
where can energy demand solutions be implemented
how can this help the system be more flexible
Our work will inform and inspire energy demand reductions that support an affordable, comfortable and secure Net Zero society.
We will make energy demand reduction the foundation for a fair, fast and flexible transition to Net Zero, championing research on cross-sectoral energy demand solutions that can be applied at speed and scale for significant impact.
You might also like:
Find out more about the great work we're doing towards a net zero future when you explore our blog. Alternatively, sign up to receive the latest insights and research stories directly to your inbox.