Integrated technologies for an integrated world
UK Government healthcare studies and NHS reports over the past five years have identified a need for more integrated healthcare, and an associated need for a new generation of leaders to deliver more integrated healthcare solutions.
That's one of the reasons why the new Stephenson Building will house a suite of biomedical engineering labs, bringing together researchers from across the Chemical, Electrical and Mechanical disciplines of the School of Engineering.
Unlocking technology that reaches across the healthcare spectrum
Everything we do at the University strives to help people to live longer, healthier, happier lives. But the truth is, future healthcare provision will need to deliver more value for less money, too.
The technologies which will deliver this will be multi-functional, providing added therapeutic value by considering more elements of the treatment pathway as part of a personalised approach for individual patients.
These new technologies need to be applied across the healthcare spectrum, including the development of new and enhanced medical devices, new diagnostic tools, supporting cell and gene therapies, and novel imaging techniques. Examples might include combination products such as implants which can also release drugs into the body and companion diagnostics such as a test administered to determine which version of a particular therapy is best suited to a particular patient. Another example would be integrating data from patient self-monitoring to support healthy living beyond front-line treatment and as part of rehabilitation.
To underpin these multi-functional approaches, smarter technologies and biomaterials are required. This might be to support the development of devices which can be mechanically and biochemically tailored to a person, or which can monitor and respond to changes in a patient's condition.
The new Stephenson: where change can happen
Integration of fields and specialisms is vital when it comes to developing technologies for multi-functional approaches.
Thanks to a £1.1 million grant from the Wolfson Foundation, Stephenson's new laboratories will bring together researchers in biomaterials, tissue engineering, tribology, neural engineering, assistive technology, medical devices and bacterial engineering into one wing of the building.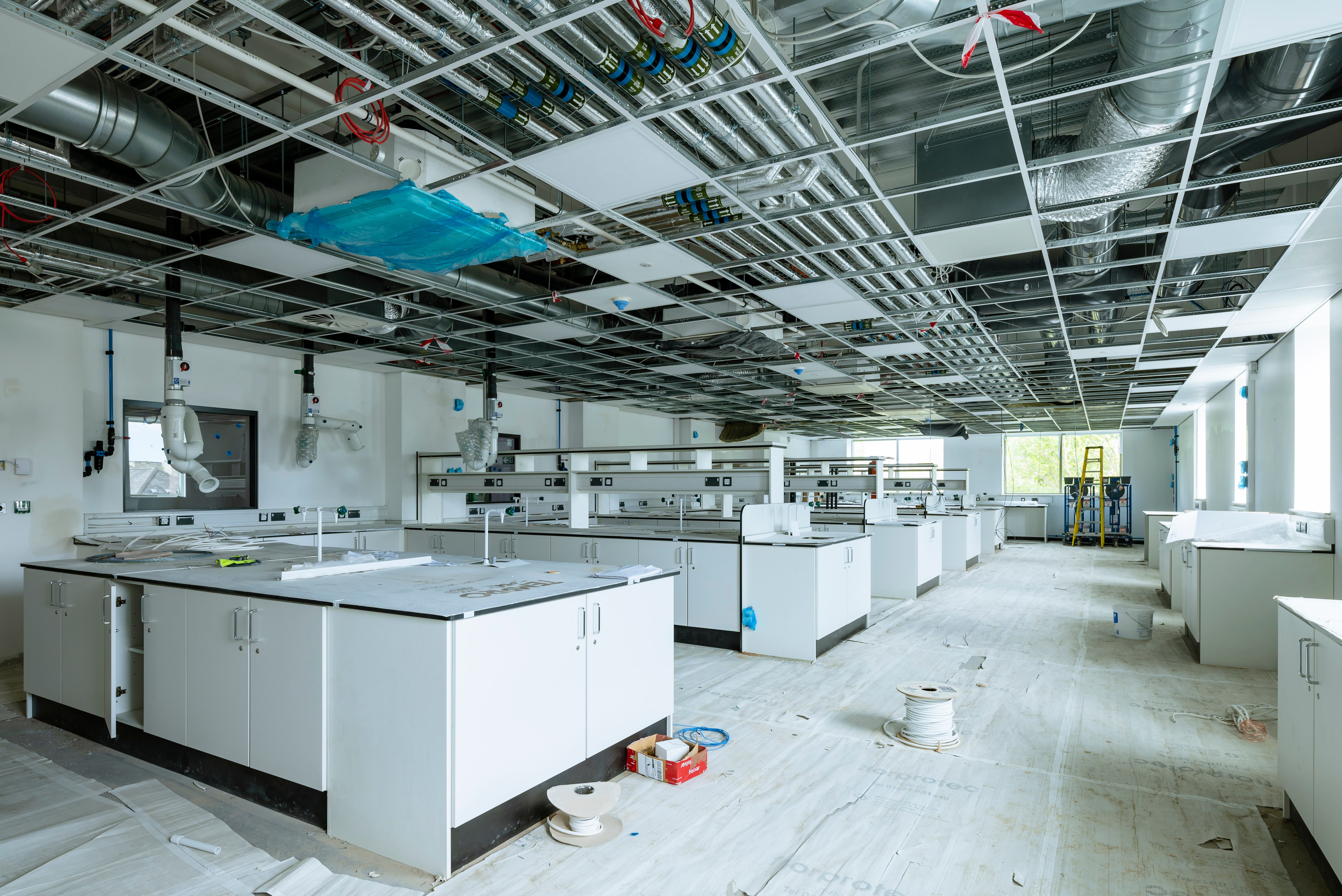 Internal shot of one of the new Stephenson labs being constructed. Credit: Bowmer & Kirkland / Ben Clarkson
This range of activities has never before been concentrated in one place within the University.
All lab users will also be able to make use of the materials processing, testing and characterisation facilities throughout the building, including facilities in the Makerspace for developing new concepts and products.
Facility integration: benefits for all
The new suite of biomedical engineering laboratories will bring together a vibrant community of educators and researchers in biomedical engineering, and offer them greater scope to address the unmet and emerging healthcare needs.
But it also has benefits for our students directly.
For our undergraduate students, this new set of integrated labs gives excellent opportunities for high quality practical work and projects addressing future healthcare needs.
For postgraduate students, the laboratories offer state-of-the-art training facilities for masters and doctoral level training, in particular providing the combined resources to support research which embraces the integrated healthcare agenda.
Many research funders are issuing calls for "challenge" based proposals, which invite groups of researchers to collaborate around an identified problem, such as new treatments for diabetes, or reducing hospital infections. These need input from a range of researchers to address needs around a topic and bringing the different disciplines and research interests together will enable the University to respond more effectively to those challenges.
---
You might also like:
---
Header image photo credit: Bowmer & Kirkland / Ben Clarkson