In this COP26 article, Dr Simon Meacher reflects on green thought and everyday activism
.
There is nothing new in calling for the protection and restoration of nature, one of the key themes of COP26.
Voices demanding a greener way of life are echoing through history.
They range from nature conservation for
purely
human-centred aesthetic reasons to the radical reorganisation of life along ecocentric lines
. The owners of all these voices sought to make a positive difference for people and the planet.
The evolution of the environmental movement
From the 1960s onwards, essential writing of the green movement (Silent Spring, Limits to Growth, Small is Beautiful) criticised the destructive effects of industrialisation on nature, and suggested alternative paths
.
Their influences could
be traced
back to the insights of explorer and scientist Alexander von Humboldt
. He was the first to articulate a link between humans and climate change.
Over the same period, environmental campaigners from Greenpeace, CND, and recently, Extinction Rebellion, questioned modern economic practices and societal behaviour
.
They connected social and environmental justice in the vein of William Morris and early 20th-century green anarchism
.
The positions adopted by such writers and campaigners were often undermined or rejected. Their motives and tactics
were derided
, whereas growth and profit-seeking remained sacrosanct.
Today, young environmentalists such as Greta Thunberg and, in this country, Mya-Rose Craig, follow this critical green tradition
.
They amplify the argument for protecting nature and changing course with great urgency, and with responsibility to the future
.
Crucially
, they are also helping to foreground marginalised voices in these debates. They are a source of inspiration and offer hope for a better world.
The emergence of green ideas in Germany
British environmentalist Jonathon Porritt once wrote that 'green politics is the rediscovery of old wisdom, made relevant in a very different age.' Porritt's quote is especially pertinent for me, having studied a module in 'Green Thought in German Culture' during my undergraduate studies.
But it was the 19th Century German scientist Ernst Haeckel who gave our connection to nature a label when he first coined the term 'Oecologie,' referring to a web that links together all the organisms that surround it.
In other words, nature and people are two parts of one whole. And everything is connected.
It was
increasingly
clear that we were living in an age of ecological crisis.
Inspired by that undergraduate module, I typed the first word of my doctoral thesis on green ideas in German literature in 1999
.
Such warnings are now commonplace.
Alarmingly
, little about the world's response has changed, even if the impact of climate change on our daily lives is now undeniable
. But it is not too late for any of us to make a difference.
The pandemic helped us reconnect with nature
For many people, the increased time spent at home in 2020 and 2021 offered the opportunity to think again about our relationship with the Earth and our place in the web of life, and to reconnect with nature
.
In my case, this meant exploring the countryside around where I live on my daily walks.
Rediscovering an awareness dulled by the pre-pandemic daily routine, I came to appreciate the impact of the changing seasons on the landscape so much more
. I started to understand a little better the lives of local birds and animals. I was developing the skill of identifying birds from their song.
Through all this, I gained an enhanced sense of place: my own place
geographically
, and our place as humans in the big picture
. I found a renewed commitment to valuing and respecting what must
be protected.
Wandering through the nearby fields, fells and woodland, there was much in which to find joy. But, there was also a dark, unsentimental side - vandalism, fires, endless litter ("someone else's problem"), and flytipping - such depressing signs of human behaviour.
Everyday activism - making a difference,
however
big or small
What I observed on my walks inspired quiet but determined action.
Compiling daily bird spotting lists and drawing started out as anchoring activities, a source of comfort and reassurance in troubled times
.
Sharing my bird art with family, friends, and online communities later became a kind of celebration of biodiversity
. I wanted to convey through art that "this is what's out there, let's help make sure it is there for future generations".
When I wasn't carrying a pair of binoculars whilst out walking, I took along a litter picker and sack.
Each plastic bottle or fast food carton removed from the undergrowth was a tiny act of resistance and restoration
.
Taking this inspiration further, I wanted to provide a helping hand for nature in our garden. I installed bird feeders which
were swamped by
iridescent starlings. Blackbirds nesting in our conifers
gratefully
swept up the inevitable mess left behind.
I allowed a patch of lawn to go wild, sowing wildflowers that
were visited by
bees and hoverflies. I carried out insect counts (not a single ladybird).
I dug a nature pond for frogs and newts (welcome anytime they want to drop by), and began composting vegetable peelings, tea leaves and coffee grinds
.
Under a
newly
planted apple tree, I
respectfully
buried a dead chiffchaff,
perhaps
fatally
exhausted by its summer migration from sub-Saharan Africa
. For the home, I started buying sustainable toilet paper because, well... I give a crap.
No doubt that these are small acts in the grander scheme of things.
All the same, like those eminent green writers and campaigners from whom I take inspiration, it is about trying to make a difference
. Everyone can play their part. Everything
is connected
.
Newcastle University has joined higher education institutions in supporting the government's aims to cut carbon emissions as part of efforts to combat the global climate emergency. Learn about a variety of climate change-related projects taking place at the University and the wider community in our COP26 blog series.

---
About Dr Simon Meacher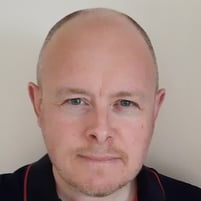 Dr Simon Meacher is Executive Office and Governance Manager. He is responsible for the overall leadership and direction of the Executive Office, is secretary to Executive Board, and works closely with the Vice-Chancellor, Deputy Vice-Chancellor, Registrar and Chair of Council on all matters of University governance.
Simon has worked at Newcastle University since 2002, the year he completed a doctoral thesis on 'The Aestheticization of Green Ideas in German Literature of the 1980s and 1990s' at the University of Exeter.
---