Curator Matthew Jarratt discusses a new exhibition that combines contemporary arts and climate action-related science research projects. Read our COP26 blog to learn more.
What is the Climate-Emergency-Change exhibition about?
The Climate-Emergency-Change exhibition combines Newcastle University contemporary arts and science research projects. My colleagues' concern for the environment and climate change links these projects together.
What inspired this climate-related exhibition?
As a curator, I organise exhibitions that shine a spotlight on interesting things and try to communicate them to a wider audience.
The challenge was to capture years of environmental research which colleagues have produced, and make it concise and consumable for the wider university audience.
Many of us find the language and concepts of Climate Change daunting and hard to visualise. This is why I find the combination of arts and science so important for storytelling.
Artists can bring new perspectives and ways of thinking about Climate Change. Scientists and engineers can explore new solutions and ways to address the impacts of the Climate Emergency.
What's your background?
My background is in the visual arts sector. I worked as an artist in the 1990s. Then I worked for Arts Council England, and, since 2013, as a curator and arts consultant around the UK and in China. I find it exciting to mix arts and science approaches together and to see crossover points or areas of common interest.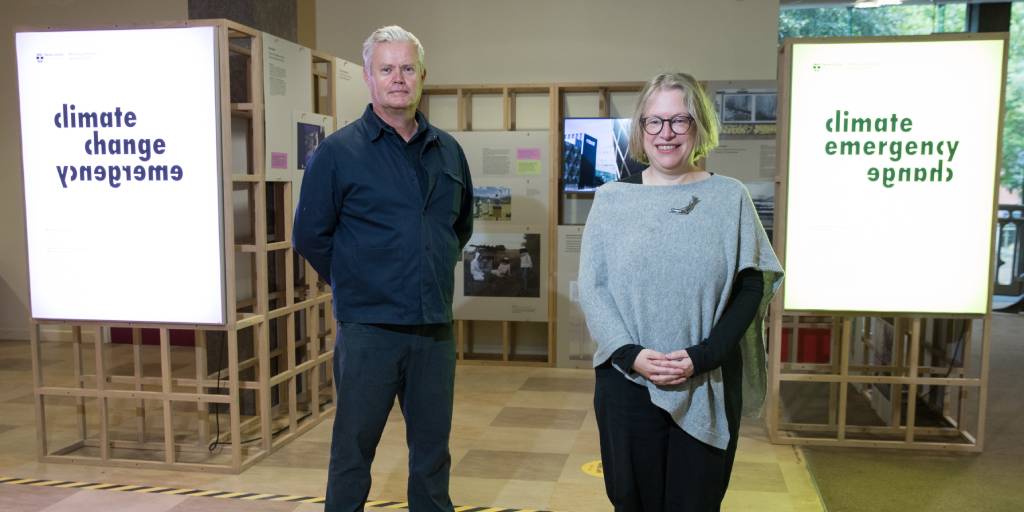 Professor Julie Sanders, Deputy Vice-Chancellor and Provost, and Matthew Jarratt
at the Climate-Emergency-Change exhibition
What can we see at the Climate-Emergency-Change exhibition?
The Climate-Emergency-Change exhibition showcases 12 local and international climate-related projects.
It brings together a diverse range of approaches. There is a project showing tragic images of burnt Giant Sequoia trees on billboards across the USA. The Net Zero GeoRDIE Project looks at how geothermal energy under Tyneside can provide a renewable source of heat.
Colleagues from the School of Architecture, Planning & Landscape work with a documentary photographer in the Indian Sundarban landscape. This area is vulnerable to flooding and climate change, and traditional communities take care of the bees.
The School of Engineering is exploring how bacteria can treat wastewater working in Birtley, Gateshead. This is a story of local and international action.
How is Newcastle University supporting the fight against climate change?
There are many more research projects which we could have included from Newcastle University. As the UK hosts COP26, we want to show the positive contribution which the University's research makes against the challenges of the Climate Emergency.
I hope this is the first of many pop-up exhibitions to communicate the important research Newcastle University is leading on.
Climate-Emergency-Change will run until the end of November 2021. You can see the exhibition Monday to Friday, 9am to 5pm, in the Herschel Building foyer at Newcastle University. To find out more about other climate change-related projects going on at the University, check out our COP26 blog series.
---
About Matthew Jarratt
Matthew Jarrat is a top international curator and arts consultant. The Newcastle University Visiting Professor of Practice has a career spanning 30 years.
He works with the public and private sectors and is helping to curate arts and culture projects. He has also worked with world-famous artists, including renowned sculptor Anish Kapoor.
Matthew has long-standing links with the North East. As a member of the Arts Council, he was a key figure in the cultural regeneration of the region. This was a period of intense investment. It led to the creation of landmark destinations including Baltic: Centre for Contemporary Art and Sage Gateshead.
---