Each year in the UK

more than

40,000 people are diagnosed with bowel cancer, with it being among the most common types of the disease in the country.
Sadly, up to 16,000 people die from it yearly (44 every day). The earlier the cancer is detected, the better the clinical outcome for the patient.
Diagnosing and preventing bowel cancer
Many bowel cancers happen when a polyp, a warty growth on the lining of the bowel called an adenoma, becomes malignant and cancer subsequently develops.
To prevent or diagnose the condition, also known as colorectal cancer, a colonoscopy is carried out by experts. This involves a camera being inserted into the bowel to find cancer and polyps and remove them, therefore reducing the chances of cancer.
A new device for colonoscopies
A large number of colonoscopy procedures are carried out each year and sometimes polyps can get missed for a number of reasons such as their size, shape and location within the bowel.
Newcastle University cancer expert, Professor Colin Rees, has worked for the last six years with a new device, called the Endocuff Vision, which improves polyp detection and makes removal easier.
As a result of his research, the Endocuff Vision is now used regularly in the NHS and has been adopted internationally with a huge surge in uptake in the last five years since this research was undertaken.
Professor Rees, expert in gastroenterology at Newcastle University Cancer Centre, said:
"Our aim is to prevent and diagnose bowel cancer earlier to stop people dying from this disease.
Most bowel cancer cases and deaths are preventable through a combination of making lifestyle changes, and finding and removing polyps before they become cancerous. The Endocuff Vision is a life-saving device as it significantly improves polyp detection and makes the removal of these easier."
About Endocuff Vision
Endocuff Vision is a single use, disposable, plastic device that is attached to the end of a colonoscope - it assists by holding the folds of the bowel back to give experts a clearer view.
Studies have shown a significant improvement in the detection of polyps when the Endocuff Vision is used.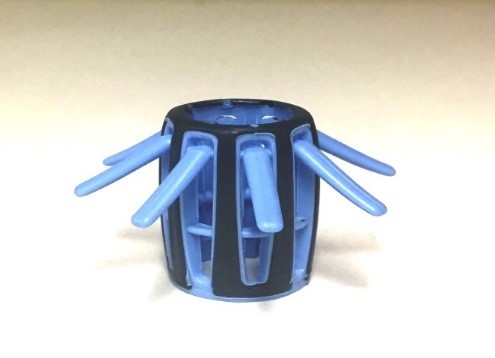 The Endocuff Vision device
Research findings
Research, called the ADENOMA study, compared colonoscopies with and without the Endocuff Vision device for 1,800 patients.
Participants in the Endocuff Vision arm of the trial had higher polyp detection, which increased in all patients from 36.2% to 40.9%. Among patients attending as part of the national bowel cancer screening programme, the detection rate increased by 10.8%, from 50.9% to 61.7%. This is one of the largest increases seen in any colonoscopy trial.
There was also an increase in detection of specific polyps called sessile serrated polyps, and particularly in polyps in the left side of the large bowel, for Endocuff Vision patients when compared to those in the standard colonoscopy arm. Additionally more cancers were detected.
Award-winning research
Newcastle University's Endocuff Vision research has won multiple awards, including:
the Acute Sector Medilink Healthcare Business Award
a UK Industry Award
the British Healthcare Trades Award for Best Innovation Developed in Collaboration with the NHS
The research also formed the basis of
the prestigious
Royal College of Physicians Excellence in Patient Care Research Award 2020.
---
Newcastle

University Centre for Cancer
Newcastle University Centre for Cancer has an impact upon oncology research and practice worldwide. It works with a wide range of international, industrial and clinical partners to translate pioneering research into the next wave of clinical advances.
2022 marks 40 years of Newcastle University's fight for people with cancer. Find out what we've achieved and help us save more lives.
---
Our research is changing the world. To keep up to date with our latest news, sign
up for our research newsletter below.
Header image by National Cancer Institute on Unsplash