We're working to make more than 50 years of unseen space technology visible to the public for the first time.
RAF Fylingdales has played a crucial part in our national security since 1963, but to the public it's still something of a mystery. Over the years, a fascinating collection of artefacts has been gathered, and we're working to create an online archive to share this incredible history with everyone.
A growing threat
When you think about space, you might think of the heady days of Apollo and Sputnik, of Armstrong and Gagarin. However, the story didn't end there. The Space Race was followed by the era of the Shuttle, space station Mir, satellite communications and more recently the Space X projects.
Over the next 10 years, Space X will deploy thousands of satellites to form their Starlink communication network. The satellites were placed in a Low Earth Orbit, just 550 km (340 mi) above us.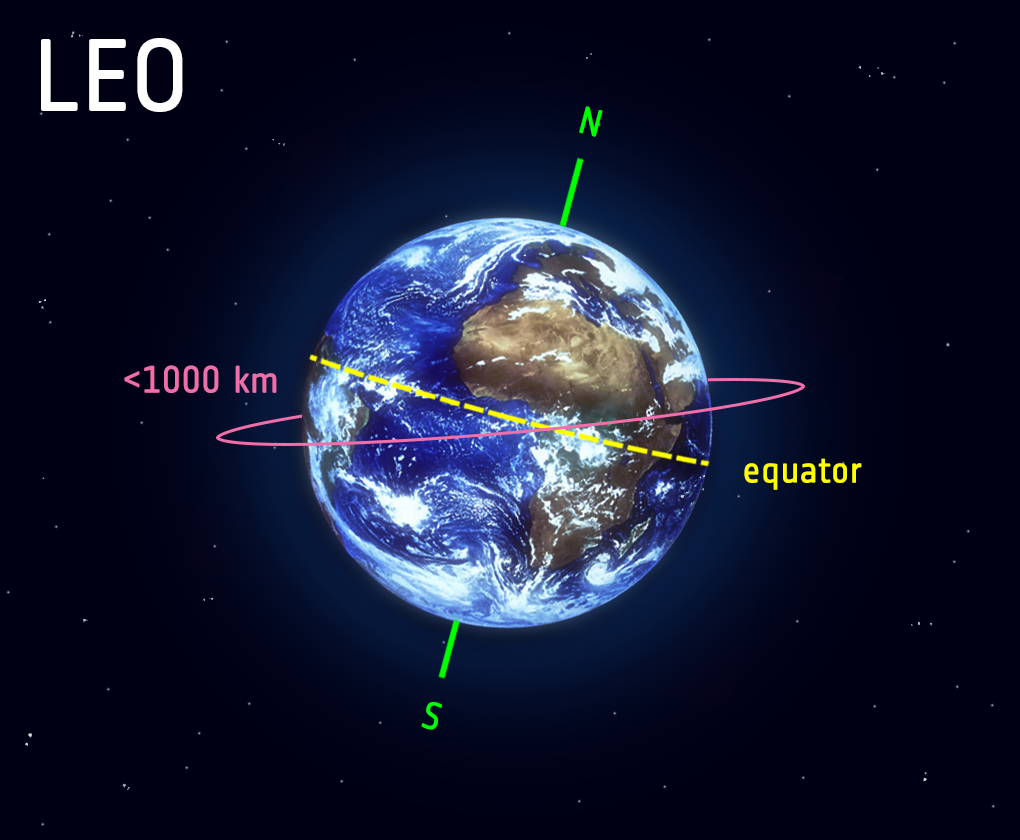 A low Earth orbit (LEO) is, as the name suggests, an orbit that is relatively close to Earth's surface. It is normally at an altitude of less than 1000 km but could be as low as 160 km above Earth. Image Credit: ESA–L. Boldt-Christmas
Unfortunately, in August 2019 some of the Starlink spacecraft were involved in a near-miss collision with a European Space Agency weather satellite.
The incident highlighted two things.
First, it reminded us of how some aspects of our everyday lives - such as weather forecasting - depend on the technology in Low Earth Orbit. Second, it highlighted the problem of active space craft being surrounded by 'space junk', hundreds of thousands of pieces of debris posing collision risks.
The Low Earth Orbit environment is an important, busy, yet little-known space. It could be the site of future geopolitical tension.
The growing number of civilian spacecraft, secretive spacecraft and an increasing volume of space junk are leading some to worry about the growing threat of collisions.
Watching since 1963
On the North Yorks Moors sits RAF Fylingdales. It provides a continuous ballistic missile early warning service to the UK and US Governments, and is therefore a key component of the UK and US nuclear deterrent.
Satellites and space debris in Low Earth Orbit behave the same way as incoming warheads. To distinguish missile attacks from spacecraft and junk, RAF Fylingdales contributes to the global tracking of over 2,000 operational satellites amongst a field of 20,000 pieces of space debris. This number is currently rising by thousands, as new satellite constellations are launched to support technologies such as the Internet of Things.
RAF Fylingdales has one of the best seats in the house to watch and record the evolution of the Low Earth Orbit environment.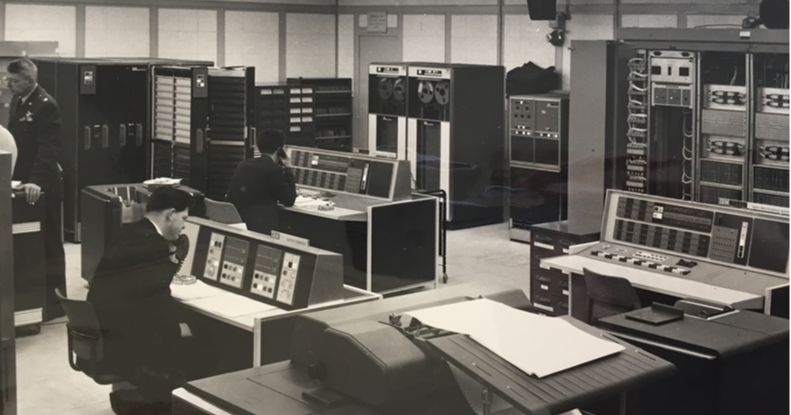 1963 and the installation of the IBM 7090 mainframe computer at RAF Fylingdales, which processed radar data to distinguish satellites in Low Earth Orbit from potential nuclear weapons. Fylingdales Archive. Crown Copyright.
Turning Fylingdales Inside Out
We're running a project that aims to open the history and present operations of RAF Fylingdales to the public. We want to promote the way space activities have been entangled in our lives.
From this, we will develop social analysis. This will be led by an innovative application of creative research practices with social science.
We hope to uncover various unexpected ways space operations and the ballistic missile early warning system integrates with everyday life.
Online public access
Central to our work is establishing the Fylingdales Archive. It will allow public access to the large collection of artefacts amassed over the years.
Since the summer of 2020 a project team, led by curator Chloë Barker, has been sorting and cataloguing material.
The materials are held within the RAF Fylingdales site. For security reasons, in-person visits are difficult to arrange, so we're developing an online archive.
Materials we're preparing for the archive include:
thousands of photographs from construction in the early 1960s to current space operations
training and technical manuals
correspondence and daily administrative documents
equipment such as control consoles
There is also a piece of the famous 'Fylingdales Golf Balls' that housed radar equipment and were designed by the influential architect Buckminster Fuller.
Worldly Noise and Electronic Atmosphere
One of our approaches in the project is an innovative use of creative research practice. The aim of this is to gain insight into how practices of space monitoring and ballistic missile early warning impact on the world beyond the fenced perimeter of RAF Fylingdales.
One Key Magic uses music and sound to make the electronic atmospheres produced by radar operations over the North York Moors audible.
In doing so, the pieces reveal the interconnections between innovations in music production and radar technology by Radio Corporation of America. This electronics giant built and maintained the radar at RAF Fylingdales during the 1960s, 70s and 80s. However, they are universally better known for releasing the records of ABBA, David Bowie and Iggy Pop!
You might also be interested in
---
Acknowledgements
This project is funded by the Arts and Humanities Research Council in partnership with RAF Fylingdales and English Heritage.
Header Image: The RAF Fylingdales 'Golf Balls' under construction 1963. RAF Fylingdales Archive. Crown copyright.
---
About the Author
Dr. Michael Mulvihill is an Artist and Associate Researcher based in the School of Geography, Politics and Sociology at Newcastle University, UK.
He is a Co-Investigator on Turning Fylingdales Inside Out: making practice visible at the UK's ballistic missile early warning and space monitoring station (AH/S013067/1).
He is one of six convenors with Chloe Barker of the Military War and Security Research Group. An internationally exhibiting artist, he is represented by Vane Gallery.
Michael was Associate Producer on the BBC Four Arena film A British Guide to the End of the World (2019) that is based upon his doctoral thesis "The Four Minute Warning Drawing Machine: Revealing the Assemblages of Nuclear Deterrence."
---
At Newcastle University, what we do here makes a difference out there. To keep up to date with our latest research news, sign
up for our newsletter below.