Professor Hayley Fowler shares her insights on extreme weather and its relationship with transport infrastructure in this Q&A - shedding light on the innovative solutions driving impactful initiatives.
Contents:
In recent years, the world has witnessed a dramatic increase in extreme weather events - from scorching heatwaves in the UK, to devastating wildfires in Hawaii. These - once rare - occurrences are now becoming all too common due to the accelerating effects of climate change.
The impacts of such events are felt across various sectors - disrupting not only daily life, but also crucial infrastructure systems such as transport, water, and electricity. As these challenges escalate, industries are faced with the urgent need to adapt and mitigate risks.
In the face of this pressing issue, our researchers from Newcastle University - in collaboration with partners like the Met Office and Network Rail - have taken significant strides. One of the pioneering initiatives, the Weather Academy, stands as a testament to our researchers' commitment to proactively addressing the impacts of extreme weather on transport infrastructure.
In this Q&A, we speak to Professor Hayley Fowler as we delve into the innovative approaches developed by Newcastle University and its partners, exploring how their expertise and collaborative efforts are shaping a more resilient future amidst the changing climate landscape.
What is extreme weather and why are we seeing more of it?
Extreme weather occurs when a weather event falls outside of normal weather patterns and may even surpass previous records, often causing devastating impacts. Examples of recent cases of extreme weather include the fires in Hawaii, the floods in Germany in 2021, and the UK heat wave in 2022 where temperatures reached 40 degrees, but there are many more examples.
Because of accelerated warming from climate change, weather patterns are changing quickly, and extreme events are becoming increasingly common across the world.
They are an urgent problem as they have significant impact on human society. For example, windstorms can cause huge disruption to electricity infrastructure as well as transport infrastructure. They can be even more impactful when combined as 'compound extremes', for example two distinct types of extreme weather arising in quick succession. For instance, when heatwaves are followed by extreme flooding or drought, as we've seen in Europe this year like in southern Spain. Here, heat waves preceded by another type of extreme weather had a big impact on human society.
What's the impact of more extreme weather on our lives?
All industries are affected by extreme weather - from the infrastructure we need to run our society, such as transport, electricity, and telecommunications, through to businesses like finance and insurance. The effects of extreme weather may be abrupt and quite short - such as train delays due to extreme storms - or longer, for example prolonged periods of drought which can cause problems with water supplies for many months.
"With climate change accelerating the frequency of extremes so quickly, and the characteristics of extreme weather events changing and intensifying, the issue is becoming greater."
The Newcastle University Water Group has a long history of studying climate change impacts. Working in collaboration with industries, we are now co-creating solutions for climate resilience planning. As part of this knowledge exchange, we've developed new tools, new methods, and new data sets – all of which are now used in society to enable that resilience, alongside the move towards Net Zero.
With climate change accelerating the frequency of extremes so quickly, and the characteristics of extreme weather events changing and intensifying, the issue is becoming greater. As such, industries are waking up to the need to act and take advice from experts in universities, working in partnership with us to co-create robust solutions.
What was our Weather Academy partnership with Network Rail?
I was part of the Weather Advisory Task Force commissioned by Network Rail after the tragedy in Carmont, Scotland, where extreme rainfall caused an embankment to fail, in turn causing a train derailment killing three people.
As a result of this event, Network Rail wanted to know how they could make their business more resilient to extreme weather in the future - and we've been helping them to do that ever since.
The task force had five recommendations - the fifth one being to develop a Weather Academy to help change the culture within Network Rail in response to extreme weather by producing new training courses and competency training. This culture change would allow them to embrace and effectively use new weather information - including new digital systems - to better manage risk on the railways.
The Weather Academy trains people in Network Rail in key competencies and to think in different ways; helping them understand meteorology, failure mechanisms, decision making, and risk assessment. As part of this, we talk about climate change and how a warmer world is already impacting extreme weather events. We've put together several modules for training, along with additional online resources which together make up the Weather Academy.
What real-life outcomes and improvements has the Weather Academy partnership created?
Through the Weather Academy, we've trained over 100 people from Network Rail so far and have begun to change the culture surrounding the risks of extreme weather from the inside, out.
We've got two more workshops that are running later this year, along with a continued programme of events that are ongoing in collaboration with Network Rail. We've also developed online resources for teams to use for continuous professional development (CPD) and competency training of their staff.
"Industries are waking up to the need to act and take advice from experts in universities, working in partnership with us to co-create robust solutions."
The feedback from our training courses has been excellent – with many people saying that it has changed the way they think and make decisions, as well as the way they use weather data and information to make those decisions on an operational level. For example, this includes whether they allow trains to run at certain speeds, put speed restrictions on travel, or stop trains at certain points on the track because of extreme weather - all to ensure safety and structural resilience.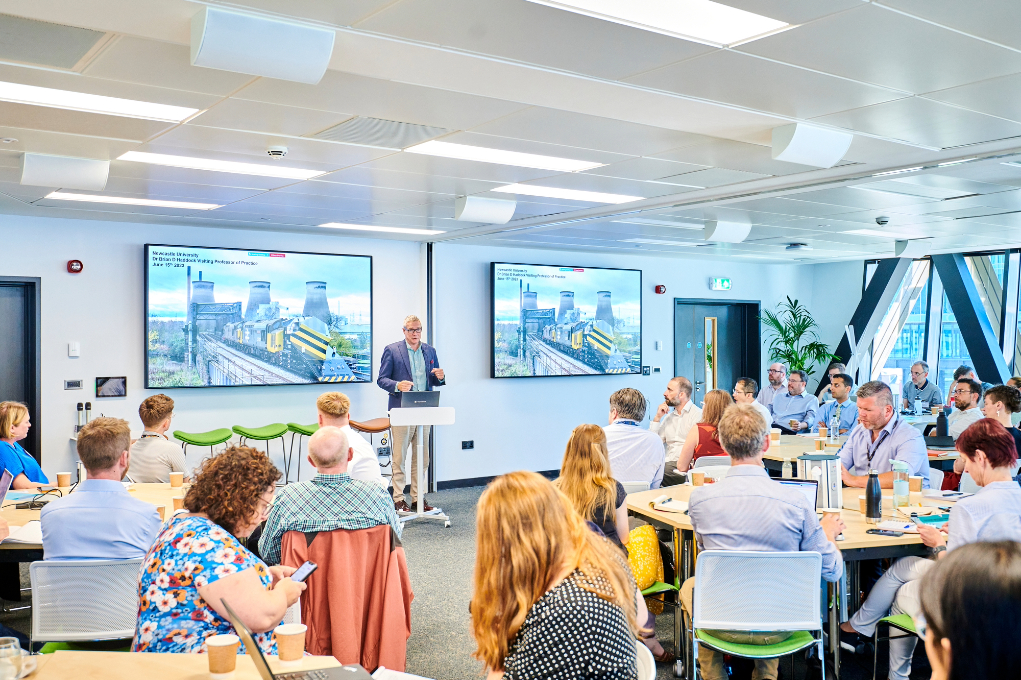 A photo taken from one of Newcastle University's recent extreme weather workshops and forum.
How can our research help pre-empt problems of the future?
We've adopted this approach with several other organisations as well. We recently brought together 35 different organisations - from water companies, international consultancy firms, insurance providers and banks, to the Committee on Climate Change, and regulators such as The Scottish Environment Protection Agency and the Environment Agency - at a recent event to talk about extreme weather risks.
All the organisations who took part know that they need to change their business culture to embed extreme weather and climate change risks, and to bring in more information to improve their digital skills. This will help them better understand how their risks might change and how they can use additional information to adapt their practices to become more resilient to extreme weather.

Looking at the success of our partnership with the Met Office and Network Rail, we want to extend this invitation to other organisations and businesses in the UK to work with us. That's why we've developed a new forum called the Extreme Weather Adaptation Hub.
Through this platform, we will provide expertise on climate change and on the types of information and methods that organisations should use to prepare their businesses for extreme weather changes.
The Extreme Weather Adaptation Hub is all about training, providing new information and skills, as well as ultimately doing the research that's needed for business resilience.
You might also like:
.