At Newcastle University, our research collaborations span the globe. From discovering new ideas, to bringing distinct expertise to an issue, we are invested in strengthening our international connections.
We are also dedicated to supporting the future generation of researchers looking to shape and change the world.
In this blog, discover how Dr Nick Walker, Senior Lecturer in Chemistry, recently collaborated with the Indian Institute of Science (IISc.) and postgraduate research (PGR) student, Surabhi Gupta, to further our understanding of hydrogen bonds formed by water and hydrogen sulphide.
How did this collaboration happen?
Our work with the IISc. was born out of Newcastle's unique capabilities for spectroscopy.
My research group use molecular rotational resonance (MRR) spectroscopy to explore molecular structure. We maintain and operate a broadband microwave spectrometer that allows MRR spectra to be recorded rapidly and in high detail.
The Newcastle spectrometer is globally-unique in respect of key capabilities for the study of hydrogen bonding interactions.
From Newcastle, to the Indian Institute of Science (IISc.)
Microwave spectra can be analysed to reveal key details of molecular structure. During an experiment that had a completely different aim, we chanced to see some fascinating new features in the microwave spectrum of a complex formed at low temperature between two hydrogen sulphide molecules. I knew these would be interesting to researchers at the Indian Institute of Science. They had been searching for such features for many years. Our instrument had just the right capabilities to find the evidence they needed to solve the problem they had been working on.
Prof. Elangannan Arunan is amongst the world's leading authorities on hydrogen bonding interactions. His team used the data, from Newcastle, to solve a 30 year-old problem.
What was the 30 year-old problem?
Is it possible for a hydrogen bond to form between two molecules of hydrogen sulphide?
Liquid water is vital for life on Earth and covers seven-tenths of the Earth's surface.
Hydrogen sulphide is a noxious gas with an unpleasant smell. While water and hydrogen sulphide have similar molecular structures, there is a key difference between them- water is far more able to form hydrogen bonds than hydrogen sulphide.
Together, my research team and IISc. researchers showed that under certain conditions, hydrogen bonds can form between hydrogen sulphide molecules in work published in Ang. Chem. Int. Ed. which was then reported on by Steam India Reports, C&E News and Chemistry World. The results allow for a greater understanding of the role of sulphur in a vast range of contexts spanning from biochemistry to the design of high temperature superconductors.
From great science to international exchange
Thanks to a grant made to Prof. Arunan by the Indian Scheme for the Promotion of Academic Research and Collaboration (SPARC), the successful research prompted an ongoing collaboration.
Over the past 4 years, a series of exchange visits have further explored hydrogen bonds formed by water, hydrogen sulphide, methanol and phenylacetylene.
Most recently, PGR student Surabhi Gupta visited Newcastle University.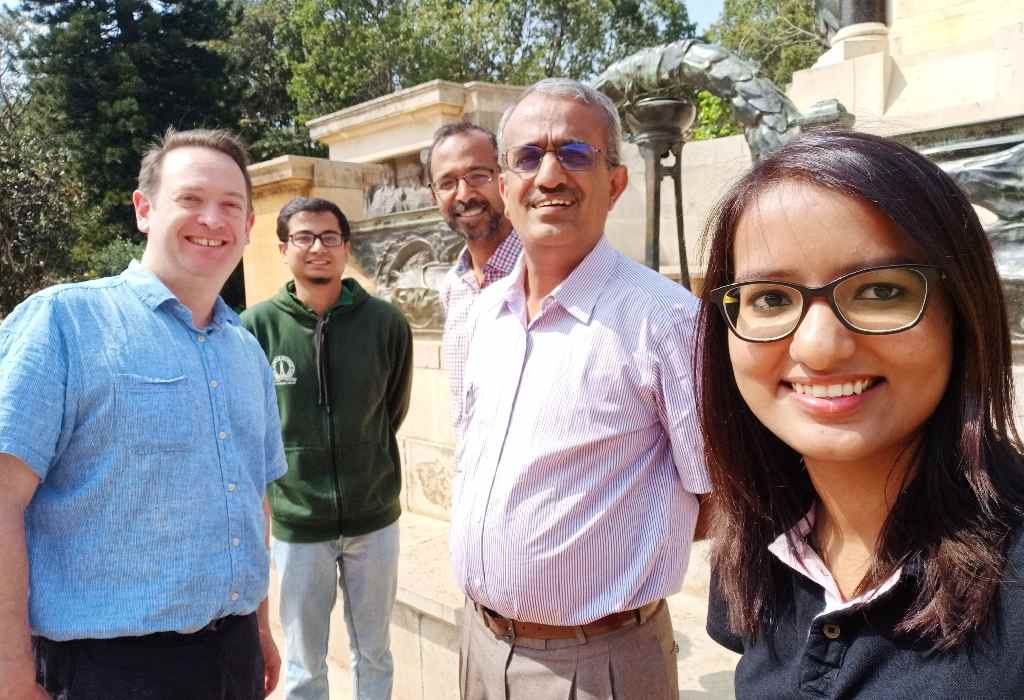 Photo caption (L-R): Nick Walker (Newcastle), Arijit Das (IISc.), Sai Ramesh (IISc.), Arunan Elangannan (IISc.), Surabhi Gupta (IISc.) pictured under the statue of Jamsetji Nusserwanji Tata at the Indian Institute of Science in Bengaluru, February, 2020.
Why is international research collaboration important?
The main benefit of international collaboration, at any stage of an academic career, is that it can bring access to valuable skills and resources that are not available within the UK.
I was quite UK-focussed as a PhD student but spent 4 years abroad as a postdoctoral researcher. This led to my developing an expertise and reputation that was unique in the UK which was important when securing an academic position.
As an independent investigator leading my own programme, I now collaborate to leverage the skills and knowledge of experts overseas and to maximise the reach/impact of my own group's capabilities.
Other downstream benefits of international collaboration (publications, impact, grant funding, enhanced reputation, research opportunities etc) flow only when the blend of skills and resources within the international team is right.
What challenges do you face when working collaboratively, internationally?
An in-person visit remains the best way of developing relationships - yet even the simplest visit to an institution abroad can turn out to be administratively complicated, and comes at an environmental and financial cost.
I have confronted many challenges of administration, both personal and professional (grant funding admin., visitor forms, visas, healthcare) when working with collaborators abroad, from America to India.
What advice would you give academics and PGRs embarking on or considering an international research collaboration?
Choose your collaborators carefully. Can you contribute something which will be valuable to your collaborator(s)? Do they have useful skills and/or resources which you would like to connect with?
Calibrate how you will interact…
do you really need to make a visit?
or is it sufficient to interact online or remotely - and thereby avoid the environmental and financial cost?
If you wish to make an extended visit overseas, plan far in advance. Expect administrative challenges. Get advice from colleagues who have made successful international visits and enjoyed good collaborations in the past.
Surabhi Gupta spoke to us about their recent collaboration, too…
What research did you undertake? What was the outcome?
I came to Newcastle University to primarily solve the structure of the complex formed between Phenylacetylene and Methanol.
We chose this complex because it had a very controversial structure as two different research groups (Prof. Naresh Patwari's group from IIT Bombay, India and Prof. Martin A. Suhm's group from Instituts für Physikalische Chemie, Germany) reported different structures for this complex.
Working on the Chirped Pulse Fourier Transform Microwave (CP-FTMW) spectrometer was a new experience for me. I did several experiments with the help of Ms Charlotte Cummings, a PGR student in Dr Nick Walker's lab, to record the spectrum of the parent complex and its various isotopologues.
After the analysis, we confirmed the structure of the Phenylacetylene…Methanol complex. This confirmed structure will provide more insights into the possibility of H-bond formation in multifunctional molecules like Phenylacetylene.
Apart from the Phenylacetylene…Methanol complex, we recorded one spectrum for Ar(H2S)2(H2O), a higher cluster formed by Ar, H2S and H2O. Dr Nick Walker has already mentioned the importance of H2O and H2S, and this collaboration started with the H2S dimer project.
Solving the Ar(H2S)2(H2O) complex will give us more understanding concerning these weak bonding interactions.
What did you gain from your time at Newcastle?
I made significant progress in my project and learnt a lot.
Living and working in a foreign country brings challenges, but it also brings opportunities for personal growth.
Working with Dr Nick Walker and Ms Charlotte Cummings was an amazing experience, and I am thankful to them for making my stay here wonderful.
Collaborating with experts from different cultures also brings a fresh perspective to work and provides new insights.
In two months I have learnt to adapt to new surroundings, navigate cultural differences, and develop communication skills. These experiences have helped me become more adaptable and resilient, which are valuable qualities in any profession. I acknowledge Dr Nick Walker, and Ms Charlotte Cummings, for helping me settle in a new country. They helped me in all possible ways inside - and beyond - the lab.
What advice would you give PGRs considering an international research collaboration?
There are several reasons why visiting foreign universities for collaboration projects can benefit PGR students.
The unfamiliarity and separation from home are great incubators for introspection. This enhanced experience challenges students to extend their minds concerning food, friends, and necessities.
Building an extended network at a university brings valuable new research ideas and insights into different methodological approaches can provide helpful feedback. Research collaborations give a platform to share research with others which leads to receiving information about valuable conferences, workshops, and seminars of one's interest.
This is how I came to participate in the Spectroscopy and Dynamics Group Meeting held at Durham University from 3rd to 5th January 2023. Meeting new people and learning about other ongoing research was a great experience.
A research visit is not solely around work and concentrates not only on your research, but discovering a new country and dazzling yourself with diverse culture and traditions is also a prospect.
In summary, international research collaboration can provide access to expertise, networking opportunities, cultural exchange, and personal growth. Experiencing a new culture can also help develop cultural awareness, language skills, and adaptability, all valuable qualities in any profession.
About our Doctoral College
Newcastle University's Doctoral College was launched in April 2022. Its purpose is to enable a one-university approach to Postgraduate Research that will help us to:
provide a suite of support to our PGR Community
improve the visibility of our PGR 'offering
improve connectivity of administration across the University
The Doctoral College works closely with a wide range of PGR–focused colleagues across Faculties, Academic Units and Professional services. Our range of services ensure support and that our students can reach their highest potential.
You might also be interested in:
Find out more about the great work we're doing when you explore our blog. Alternatively, sign up to receive the latest insights and research stories directly to your inbox.