The UK population is ageing, and an increased lifespan brings new challenges and opportunities to individuals and society.

One in four people in England are living with more than one long-term condition
Also, the age at which people are acquiring multiple conditions is lower than it has ever been, and those living in the most disadvantaged communities typically have two or more conditions 10 years earlier than those in the least deprived.
These conditions include dementia, frailty, reduced mobility, and other medical conditions that can develop at any stage of life but become more common and troublesome as we get older.
It's becoming vital that research and healthcare services address the complexities of enabling people with these multiple long-term conditions to age well.
In the North East, there's a unique opportunity to explore the potential for ageing innovations using digital technologies. This is due to a stable population, high prevalence of multiple long-term health conditions, a mature digital environment, and a regional health information exchange – the Great North Care Record – hosted by Newcastle Hospitals NHS Foundation Trust.
Here at Newcastle, we're bringing together our world-leading ageing research, state-of-the-art digital environment, and cutting-edge data expertise to ensure that access to the best healthcare is available to all.
But how are we doing it?
Collaboration is key
Our work in developing digital health technologies to support ageing and multiple long-term conditions aims to deliver direct benefits for patients, the public, and health and care systems.

Our team includes clinicians, engineers, computer scientists, designers, and software engineers with experience in developing commercial software. This enables us to establish and pilot real-world digital tools which use wearable and mobile devices available in people's own homes to address challenges like mobility loss and falls risk.

Our collaborations across NHS Trusts, NHS Digital and Heath Education England North East mean access to even more expertise and further bring our research to life.

And to ensure that our work directly meets the needs of our audiences, we co-develop our research with diverse patient groups and test our ideas and prototypes by deploying them at scale and conducting large scale trails.
Digital technology aiding accessibility and inclusion
One of the key themes of our work with ageing and multiple long-term conditions is to address the complexities of enabling people with multiple long-term conditions to age well through digital health technologies.

Digital health technologies combine computing platforms, connectivity, software, and sensors for health care. These technologies aid and enhance every step of the care process, from diagnosis to treatment and evaluation.

We predict that digital health technologies that make the most of data science will widen access to research and stimulate therapeutic development and clinical services – making all areas of healthcare more inclusive and accessible for experts and patients alike.

To do this, we're researching new digital tools that can provide linked-up approaches to early disease detection, monitoring and prognosis.
Big Data
To drive forward digital health technologies that use data science, we must harness the potential of big data drawn from both the clinic setting and people's everyday lives.

Newcastle is home to a large community of world-leading academics, researchers, students and partners working in data. Their work in data explores a wide range of visualisation, analytical, and data modelling fields, including biomedical informatics.

We also lead the National Innovation Centre for Data (NICD). This unique £30m facility accelerates innovation by delivering technical and practical data skills into regional, national and international organisations.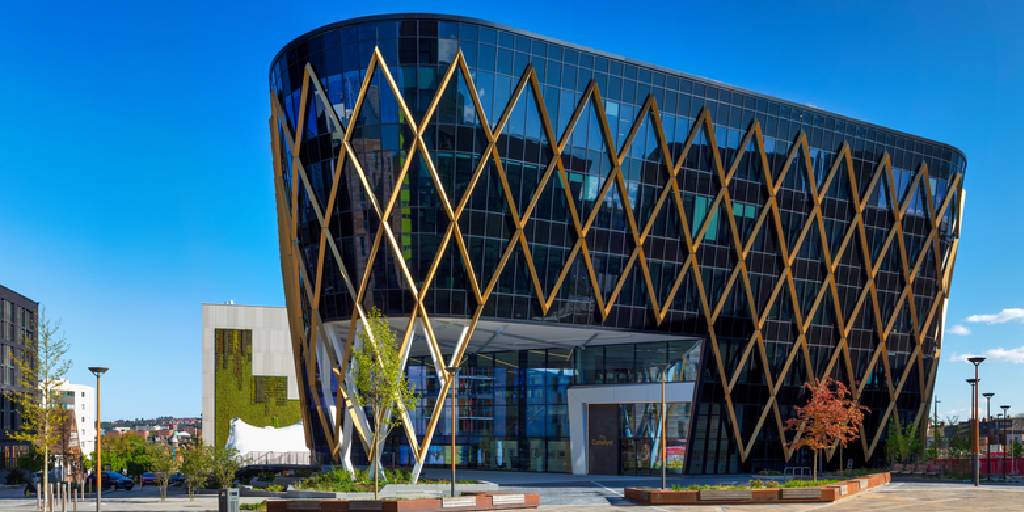 Caption: The Catalyst, home to National Innovation Centre for the Ageing and the National Innovation Centre for Data.
Together with our data experts, our Biomedical Research Centre is working on three distinct programmes to help older people with Digital Health Technologies.
Using digital technology to enhance medical tools for early disease detection, monitoring, and prognosis
Building on our world-leading work on biomarker discovery in Parkinson's Disease and dementia, and ongoing insights from two large international digital biomarker consortia (together providing €100m funding through the EU Innovative Medicines Initiative Programme), we will prioritise, develop and validate digital biomarkers for real-world delivery in diverse cohorts with multiple long-term conditions.
Biomarkers are biological molecules found in the body that show signs of normal or abnormal processes, conditions of disease, or how well the body is responding to treatment.
This programme will embed digital health technologies as tools for research and clinical management, apply innovative data science methods to optimise digital biomarker discovery, and combine digital biomarkers with cohort data to compliment disease models.
Developing home-based digital health technology interventions
Older people and those with multiple long-term health conditions often are limited in terms of access to services.
This project is driven by the design and piloting of innovative digital tools that enable remote delivery. By using interaction design and ubiquitous computing, we will create technologies that solve real-world problems, such as home-based digital tools to address mobility loss and a risk of falls, and use digital tools to enhance clinical delivery pathways and personalised care. We will also target preventative approaches by developing tools to support behavioural changes in users.
Ensuring digital health technologies are inclusive, easy-to-use, and scalable
While digital health technologies show considerable promise for improving the lives of older people, they are not yet widely adopted. We must address the reasons why.
We need to understand the challenges for healthcare professionals and patients, and design scalable solutions that can be widely adopted and are easy to integrate into existing clinical and research infrastructure, including medical records.
Understanding these issues will ensure the technologies developed will be genuinely useful and clinically meaningful to patients and professional, while communicating insights and opportunities for digital data through tools that are secure and accessible.
But that's not all.
The landscape of digital health technologies for an ageing population is beset with challenges, but loaded with potential. The unique opportunities we have here at Newcastle for bringing together big data, Digital Health Technologies, and experts in ageing and health are huge.
From the work done by the NIHR Newcastle Biomedical Research Centre to develop artificial intelligence tools for real-time data analytics, to collaborating across NHS Foundation Trusts, NHS Digital and Heath Education England North East to raise awareness of digital transformation and identify future leaders, the scope of what we do here widens with each new development.
We're already changing the lives of older people for the better.
For what we do next, watch this space.
---
You might also be interested in