Award-winning

directors

and cutting-edge artists are making memorable films and videos at Newcastle University.
From ground-breaking documentaries to hyper-real digital recordings, film and video are emerging as an important medium for practitioners.
Film@CultureLab
Film@CultureLab was founded by Dr Ian McDonald in 2015. Since then, feature documentaries and fiction films made by its lecturers and students have achieved international acclaim. Meanwhile, artists from the Fine Art department at Newcastle University, such as Rachel McLean and Jane and Louise Wilson, have exhibited at galleries around the world and been nominated for the art world's top awards.
"This is an exciting time for the University," explains Professor Richard Talbot, Director of the Newcastle University Institute for Creative Arts Practice.
"To have so many creative and other practitioners working in these areas really makes us stand out as a centre of excellence and of innovation."
Run Kalyani
Director Dr Geetha Jayaraman's acclaimed debut feature fiction film Run Kalyani has been garlanded with awards.
A mesmerizing film about duties, dreams and desires, Run Kalyani is a poetic and realist drama that draws you into the world of Kalyani, a young cook who lives with her ailing aunt in a rundown Agraharam (a traditional house) in Trivandrum, Kerala, India.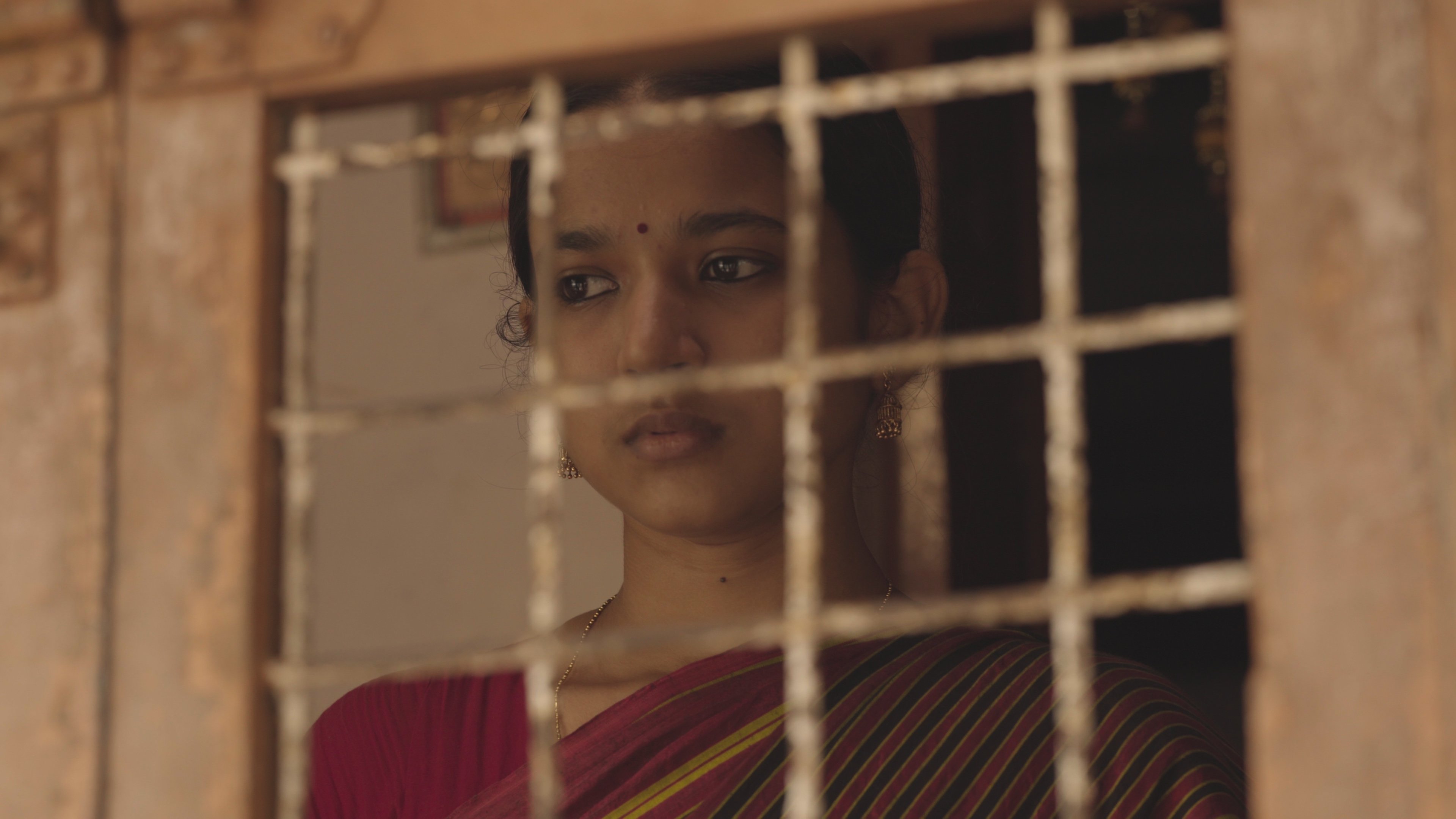 A still from Run Kalyani
It premiered at the Kolkata International Film Festival, where it won the Special Jury Award followed by the FIPRESCI-India award at Thrissur International Film Festival. Lead actress Garggi Ananthan scooped Best Actress at the New York Indian Film Festival, which Run Kalyani opened. Dr Jayaraman, who is a Lecturer in Film Practice at the University's Film@CultureLab, was also named Best Director at the Indian Film Festival of Cincinnati, while the film won Best Feature Fiction Film at the South Asian Film Festival of Montreal. Most recently, it won Best Director in a Feature Film and Best Actress in a Feature Film at the Yellowstone International Film Festival 2021.   
"Run Kalyani has been widely and positively reviewed, including being hailed by FIPRESCI (the international body of film critics) as a path-breaking film that has 'heralded l'cinema feminine in India,'" says Dr Jayaraman. "This fills me with a great confidence because I did not set out to do this, but it happened – this means that years of reading, immersing, engaging, doing, teaching, even brooding has contributed to this beautiful expression and this is something I can take to my students."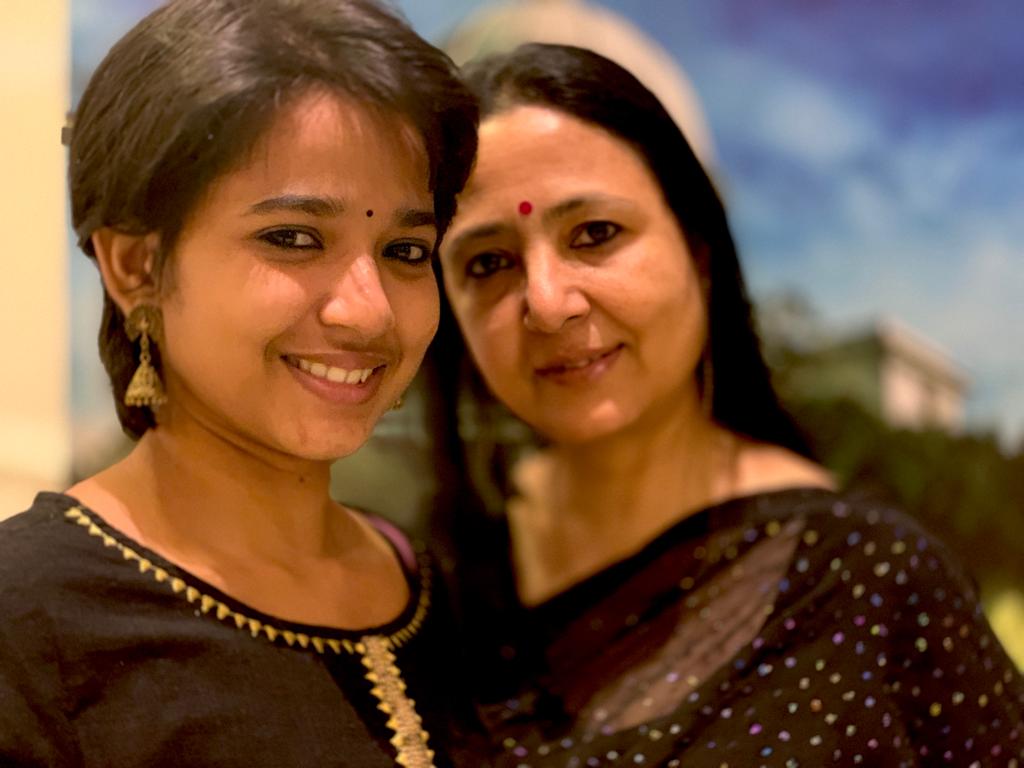 Director Geetha Jayaraman and lead actress Garggi Ananthan at the premiere of Run Kalyani
Run Kalyani screened at more than ten venues simultaneously all over India as part of International Women's Day celebrations in March, organised by the Federation of Film Societies of India (FFSI). It was also part of the Asian Women's Film Festival organised by the International Association of Women in Radio and Television (IAWRT), Delhi and it opened the prestigious Soorya Film Festival in Thiruvananthapuram.
Iorram (Boat Song)
Dr Alastair Cole has produced and directed the first ever cinema documentary entirely in Scottish Gaelic. Iorram (Boat Song) premiered at the 2021 Glasgow Film Festival and will be released in cinemas across the UK and on the BBC in 2021.
It is an impressionistic portrait of the Gaelic fishing community in the Outer Hebrides, past and present. The inhabitants of the islands today are observed on land and on water, while the ghostly voices of their ancestors tell stories and sing songs about life at the mercy of the sea.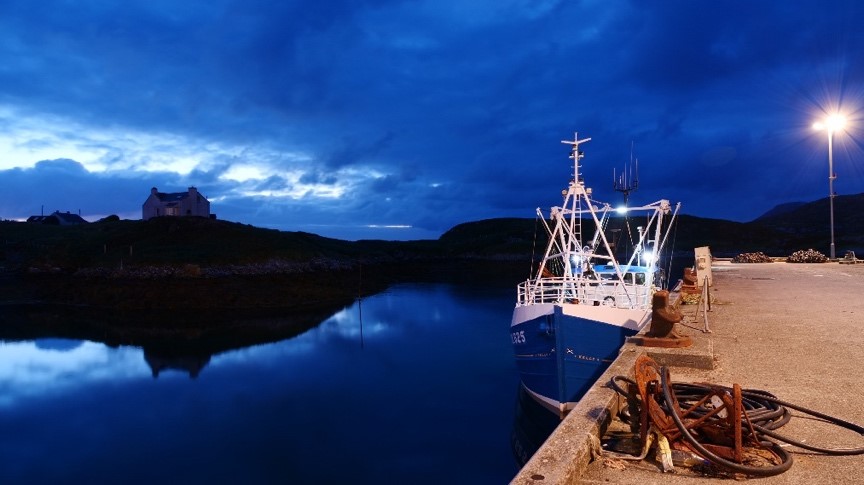 A still from Iorram
"This film is an immersive and poetic portrait of life in the Outer Hebrides, as the islands and the language face an uncertain future," says Dr Cole, a Lecturer in Film Practice at Film@Culturelab.
His previous feature documentary film Colours of the Alphabet has also screened at over 50 film festivals to date, winning multiple awards, and was the centre of an ESRC funded International Impact Project which saw it released in 30 languages across Africa. It was also given a special screening at the United Nations headquarters in Geneva to mark UNESCO's annual celebration of International Mother Language Day.
Who is Europe?
Who is Europe?, directed by Dr Ian McDonald, won the Audience Awards at the Refugee Film Festival in Berlin; was shortlisted for Best Research Film of the Year at the AHRC Research in Film Awards in 2019; nominated for Best Film at Festival Protesta in Barcelona and nominated for Best International Film at Liberation DocFest in Bangladesh.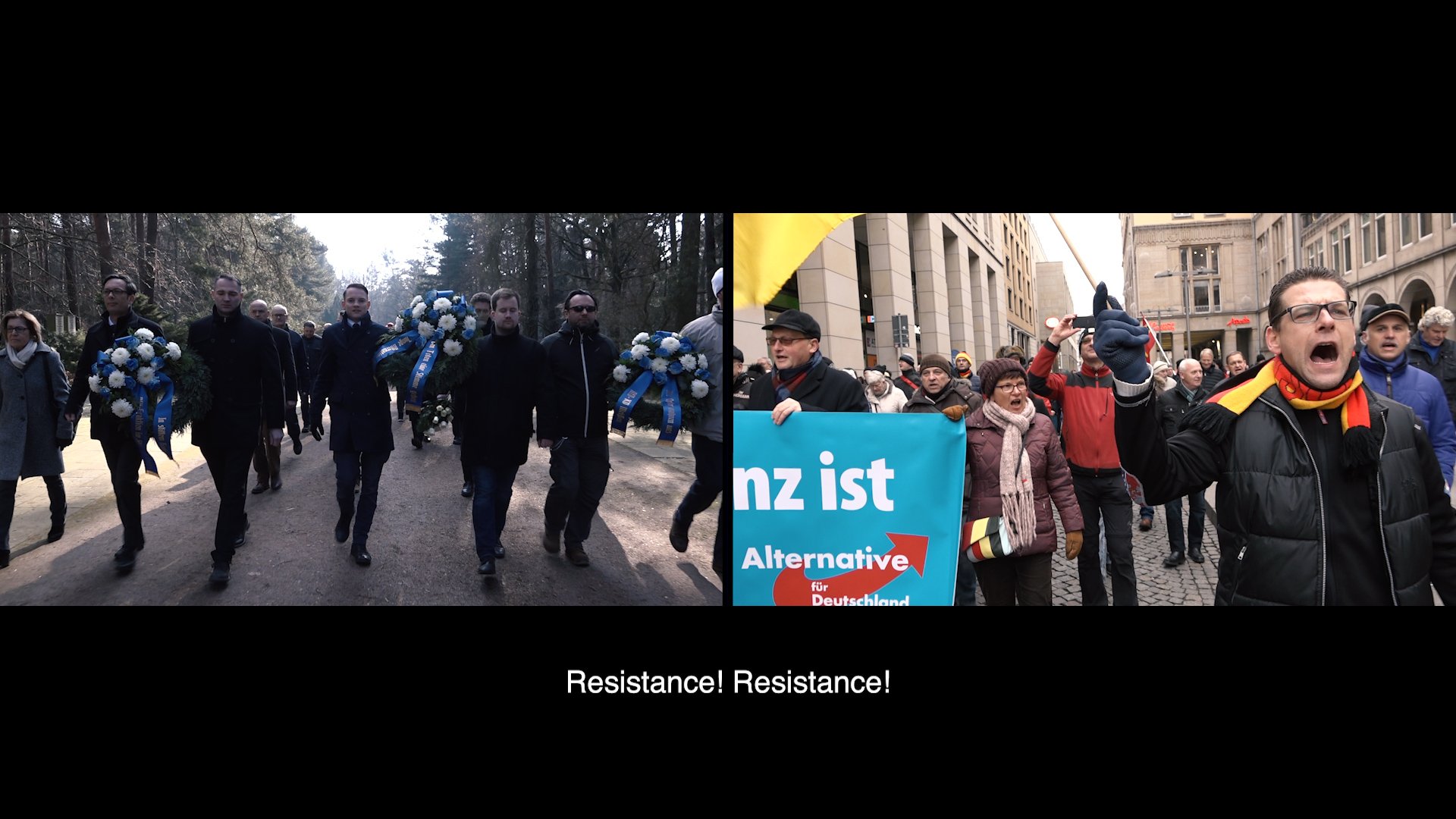 A still from Who is Europe?
The film takes us to Dresden, Bologna, Bodrum, Tompa on the Hungarian-Serbian border, and to Melilla, a Spanish exclave in Africa, to ask 'Who is Europe?' 'Who Belongs?" It ends with the sounds of bells ringing across Europe on International Peace Day. Who is Europe? was made as part of an EU-funded research project, CoHERE (Critical Heritages: performing and representing identities in Europe), led by Prof Chris Whitehead and Dr Susannah Eckersley from Newcastle University. 
Film@CultureLab PhD students
Dr Evripidis Karydis, the first Film@CultureLab student to gain a PhD in film at Newcastle University, and Ang Gao and Michael Pattison, current Film@CultureLab PhD students, are showing their short documentaries at film festivals all over the world.
Reflecting on the past few years, Film@CultureLab founder Dr McDonald says:
"Back in 2015, the vision for Film@CultureLab was to create a space for the convergence of creative vision and critical thinking to produce distinctive forms of cinematic art. It's fantastic to see this vision now being realised."
Video and Fine Art
Video is also a clear strength in the University's pioneering Fine Art department. We work with high profile artists including Rachel Maclean, Jane and Louise Wilson and more, to explore new avenues of creativity through film.
Rachel Maclean
Acclaimed artist Rachel Maclean recently joined Newcastle University. She makes satirical digital video art and films that comment on the nature of contemporary existence. They have been widely shown in the UK and internationally, in galleries, museums, film festivals and on television.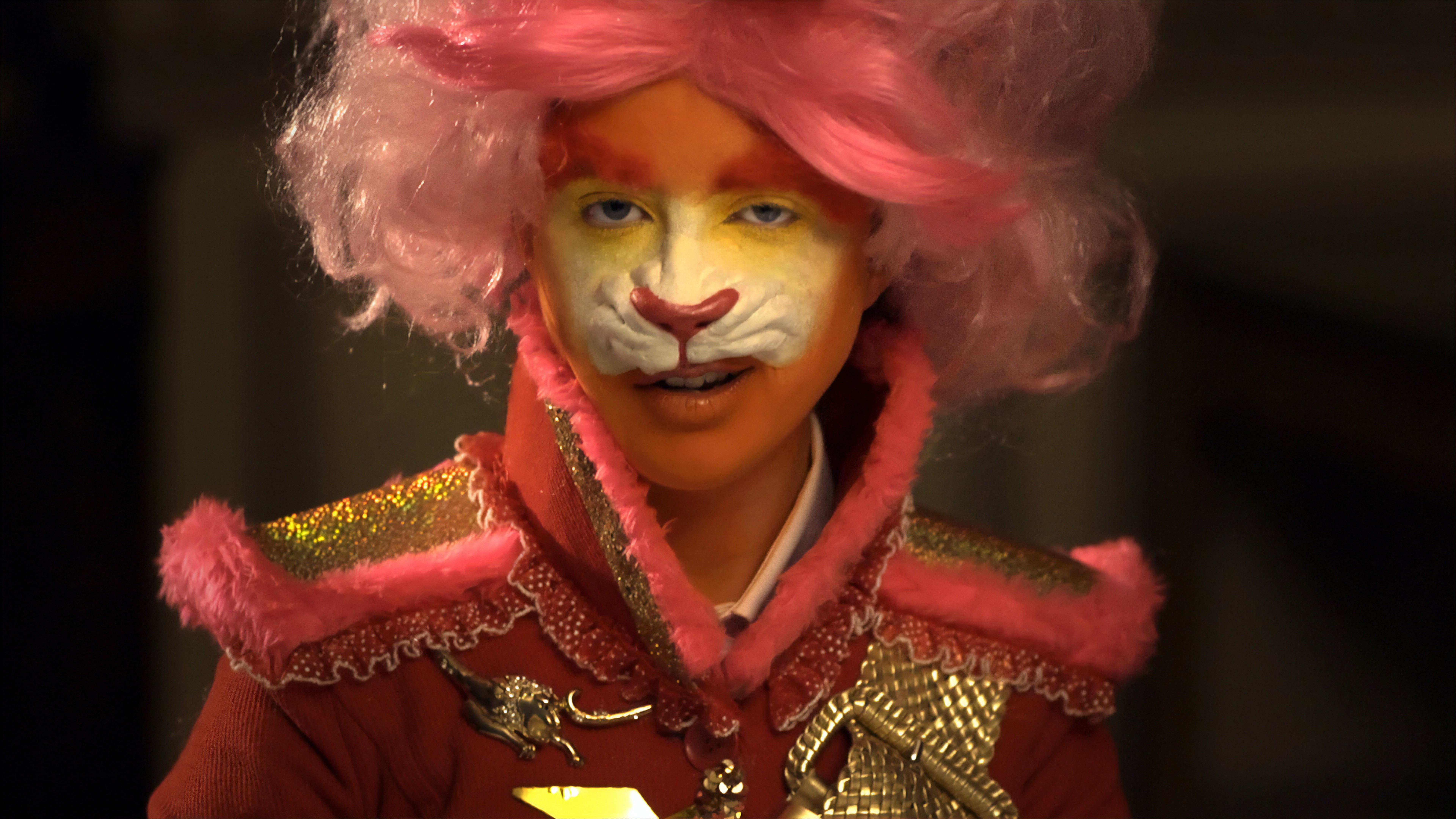 Rachel Maclean, The Lion and the Unicorn (2012), 12-minute digital video still. Commissioned by The Edinburgh Printmakers for Year of Creative Scotland
"Working largely on green screen, I restage myths and fairytales in hyper-saturated near futures, touching on issues of national identity, class and gender," she says. "On the surface my work can appear saccharine and inviting, however this belies a darker, more unsettling interior."
Jane and Louise Wilson
Turner Prize nominated artists Jane and Louise Wilson have shared the position of Professor of Fine Art since 2017. Jane and Louise, RA Elect, have gained national and international acclaim as artists working with film, photography, sculpture and sound in an expanded form of cinema and installation. They are represented by 303 Gallery in New York and Helga de Alvear Gallery in Madrid.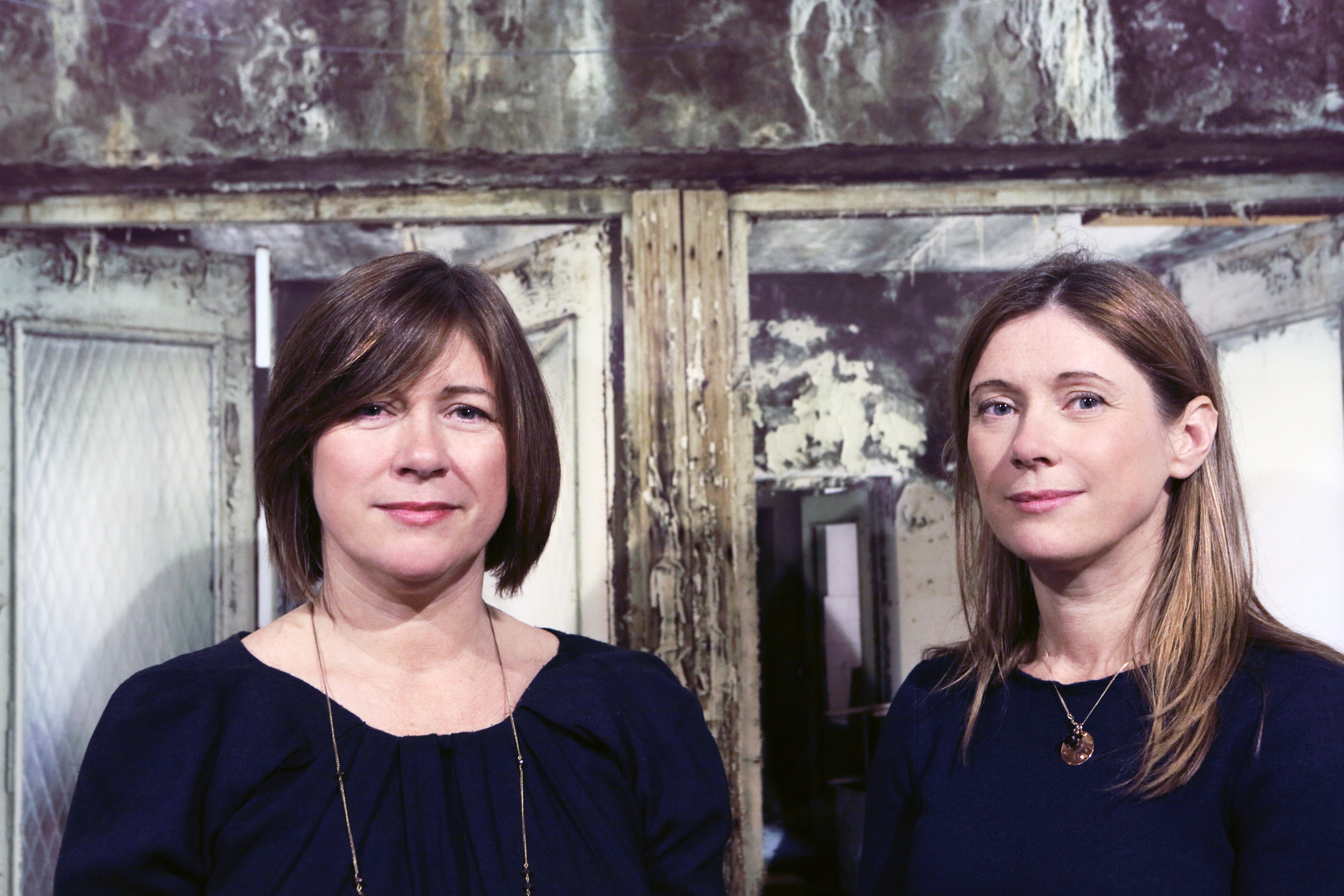 Jane and Louise Wilson - credit Tape 2012
They were nominated for The Turner Prize in 1999. Recent work and exhibitions include:
In Focus: Jane and Louise Wilson's Sealander

,

J.Paul

Getty Museum, Los Angeles (2017)

Divided We Stand

, Busan Biennial, Korea (2018)

Jane and Louise Wilson: Stasi Cit

y, The Metropolitan Museum of Art, New York (2018-19)
Their film installation, Suspended Island, was commissioned by BALTIC for the Great Exhibition of the North and won the Best Experimental Film award at the Vila do Conde Film Festival in Portugal July 2019. 
Through carefully choreographed film installations, sound works and photography, they have explored some of Europe's least accessible sites, including a former Stasi Prison in what was East Berlin, the British Houses of Parliament and the huge Star City complex in Moscow - a key site of the Russian Space Programme.
''Archiving forms the basis of a critical framework from which to develop ideas and explore new ways of encountering moving image within the digital realm.," said Jane and Louise.
"We're actively engaged with the notion of spectatorship - through film installations, we aim to activate the viewer and lead to an expanded form of cinema.''
They have held exhibitions in the UK and worldwide, including Kazakhstan, the USA, Canada and Japan. In 2020, they were invited to coordinate the Royal Academy's 252nd Summer Exhibition – which took place in the autumn due to the COVID-19 pandemic and included work by Newcastle University Fine Art staff and students past and present. Their work was most recently on show at 303 Gallery New York.
Fine artists and film
Other notable artists working with film at Newcastle University include experimental filmmaker Henry Coombes, whose debut film Seat in the Shadow has been nominated for a Scottish Bafta and has exhibited at the prestigious Venice Biennale; and Richard Grayson, whose large-scale video Installation The Golden Space City of God, is in the Arts Council Collection and has been exhibited all over the world.
Professor Vee Pollock, Dean of Culture and the Creative Arts at Newcastle University, said:
"This critical mass of practitioners across film and video art clearly demonstrates that the centre of gravity for the practice in the UK is in the North."
---
At Newcastle University, what we do here makes a difference out there. To keep up to date with our latest research news, sign up for our newsletter below.
---
Header photo: Rachel Maclean,
Make Me Up
(2019)
84-minute digital video still
Produced by Hopscotch Films with NVA, Make Me Up is a major commission for the BBC, Creative Scotland and 14-18 NOW: WW1 Centenary Art Commissions, supported by Jerwood Charitable Foundation, the National Lottery through the Heritage Lottery Fund, and by the Department of Digital, Culture Media and Sport. Make Me Up is part of Represent, a series of works inspired by the Representation of the Peoples Act 1918.
---