In this post-COP26 blog, Rachel Chambers, North East Chief Operating Officer at Driving the Electric Revolution Industrialisation Centres, at Newcastle University, explains how the centres are pioneering change.
COP26, the UN Climate Change Conference UK 2021, took place from 31st October to 12th November 2021 in Glasgow. The event joined parties across the world together to accelerate action towards the goals of the Paris Agreement and the UN Framework Convention on Climate Change.
Now that the event is over, it is critical that we continue to address the practical solutions needed to tackle climate change
.
The Driving the Electric Revolution Industrialisation Centres (DER-IC), led by Newcastle University, are already working hard to deliver on these net zero goals
.
It's critical to continue to work with businesses to support their electrification journey and drive forward the Power Electronics, Machines and Drives (PEMD) supply chain across the UK
.


The Power Electronics, Machines and Drives supply chain
Power Electronics, Machines and Drives (PEMD) are essential to next-generation technologies. They
are found
in all devices that need stable and reliable electric power.
Such devices range from household electronics to electric vehicles and equipment in space applications
.


Some of these parts begin their manufacturing journey in the UK.
However
, they can travel more than 10,000 miles before finally
being installed
in the devices they power, as we rely on overseas assembly lines
.
DER-IC's goal is to reduce this carbon footprint by helping to grow the PEMD supply chain in the UK. We want to match businesses with suppliers and manufacturers.
We provide access to over £300m of existing capability across more than 30 partner organisations
.


DER-IC has also
been awarded
£28.5m of funding for new equipment.
Our partners can use the funding to develop their manufacturing capabilities and
accelerate
and de-risk their production plans
.
Our equipment
is located
at universities and Research Technology Organisations (RTOs) across the UK
.
The open-access equipment includes:
Power electronics and flexible electric machines assembly lines at Newcastle University in the North East;

A Winding Centre of Excellence at WMG in the Midlands;

A wide bandgap power electronics component industrial pilot line at Swansea University, Wales.
This equipment will aid the companies we have engaged with in achieving their net zero goals
.
It will allow them to adopt electrification with less of a financial and environmental impact
.

DER-IC will create more opportunities for collaboration. Companies will
benefit from
the expertise of academics and researchers at these organisations.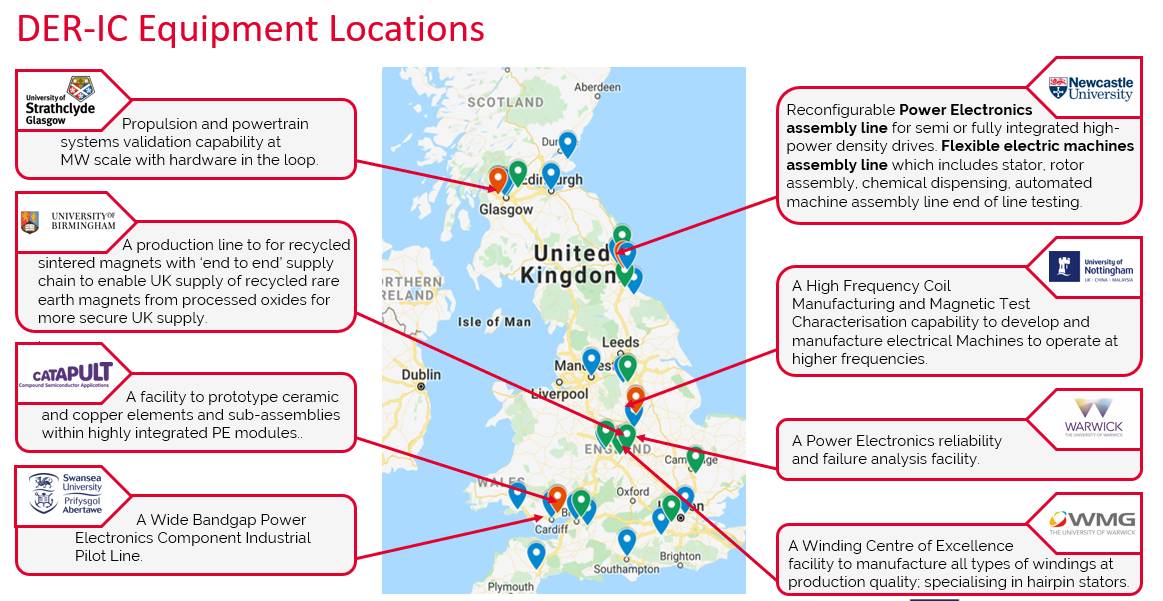 The net zero goals for the UK
The adoption of PEMD technologies will also contribute to the government's cross-sector commitment to net zero goals
.
What are the net zero goals?
All UK cars to be zero carbon by 2035 (no 100% internal combustion engine from 2030).

New aircraft to be electric/hybrid to meet next phase emissions and noise legislation by 2040.

Renewables (Wind, Wave, Tidal) to form an increasing percentage of energy generation (80% CO2 reduction by 2050).

High-speed rail network to grow, with no new diesels after 2040

Marine transport's target to be 50% CO2 reduction by 2050

PEMD supports the realisation of the industrial digital technology (IDT) revolution – Industry 4.0
COP26 has
truly
demonstrated
just
how important these changes are.
It is vital for us to provide actual sustainable solutions and drive forward these innovations and developments
.
I am
really
excited about the DER-IC journey. For us, climate change goals aren't a pipe dream.
We are working hard with industry, academics, partners, and businesses to tackle the climate crisis, develop sustainable solutions and make net zero a reality
.
Find out more about DER-IC