The Institute of Coding is a government funded project to help close the digital skills gap. As part of this, we are creating courses and developing training to help businesses get the necessary skills to succeed in the digital age. In 2019, Health Education England North East and North Cumbria approached the Institute of Coding at Newcastle University to co-develop an introductory Health Informatics CPD programme for healthcare professionals with the aim of working towards addressing the digital skills gap in healthcare.
The future of healthcare is digital, and this has been strongly emphasised in both the Topol[1] and Wachter[2] reviews commissioned by Health Education England.
"Within 20 years, 90% of all jobs in the NHS will require some element of digital skills. Staff will need to be able to navigate a data-rich healthcare environment. All staff will need digital and genomics literacy." The Topol Review 2019l[1]
To prepare for this digital future, provision of the right training and education to healthcare professionals is vital. Health Education England (HEE) launched the "Flexible Portfolio Training" scheme[3] and "Building a Digital Ready Workforce"[4] to upskill healthcare professionals in health informatics.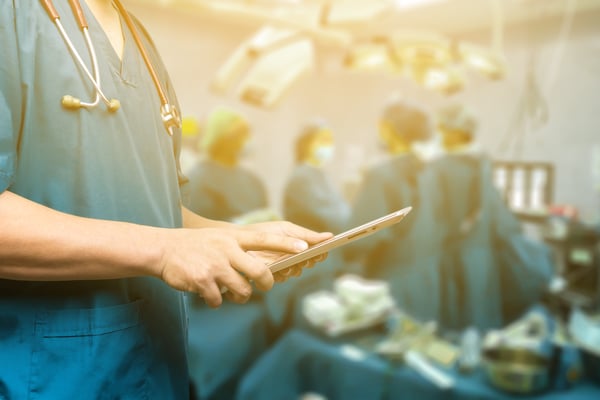 The original development process for our Health Informatics 2019/20 delivery was iterative in nature and based on feedback and input from domain experts and regional stakeholders. The programme was also informed by literature review of peer-reviewed international publications.

Consisting of 10 courses of 3 learning hours each, the programme covers a wide range of topics including:
Leadership in Health Informatics

Interoperability standards

Digital Ethics

Human Computer Interaction

Clinical Information Systems

Data Privacy and Protection

Cyber Security

SNOMED CT

Digital Health
Clinical Informatics in Practice.
The courses are delivered by clinical and academic experts. Delegates participating in the whole programme receive a broad overview of key informatics and computing topics, with each course also available as a standalone session.

The 2019/20 programme was the first Health Informatics CPD programme accredited by the Faculty of Clinical Informatics UK. Accreditation of CPD courses ensures high quality training and also enables delegates to get credit for learning in the form of CPD hours/points. In 2020/21, the overall programme as well as the individual courses has been mapped to relevant competencies in the UK Faculty of Clinical Informatics Competency Framework. The accreditation will enable delegates to evidence having achieved the corresponding competencies.
Excellent participant feedback
In 2019/20, 21 delegates participated in the programme, including a cohort from Health Education England North East and North Cumbria. Participants included doctors, nurses, allied healthcare practitioners, IT professionals, clinical coders, and senior managers.
96% of participants agreed or strongly agreed that the content was relevant to their job and 100% stated that they thought that the course was well structured.
"Tailored the approach to a medical audience by explaining the facets of data systems in terms of 'anatomy and physiology'!"
"Really well structured introduction to a complex issue."
Recommissioned for 2020/21
"The Health Informatics course is an amazing collaboration between the Institute of Coding at Newcastle University and Health Education England (NE & N Cumbria). This ground breaking programme, the first to be accredited by the Faculty of Clinical Informatics, aimed a clinicians in all health service professions new to informatics will help develop CCIOs and CIOs of the future." John Davison, Consultant Geriatrician, Associate Dean, Health Education England (NE & N Cumbria)
The programme was such a success in its first year that it is being offered again. The sessions will be fully online from November 2020 – March 2021, with a further cohort supported by Health Education England North East and North Cumbria, and additional places available to other healthcare professionals.
Find out more about our 2020/21 Health Informatics CPD programme.
Develop bespoke CPD digital training for your organisation
Our courses are developed in partnership with businesses and can help with entry level digital skills, soft and leadership skills as well as advanced technical skills. We can provide bespoke programmes and courses in a range of topics including:
Blockchain and distributive ledger technology

Artificial intelligence and machine learning

Data visualisation and analytics

Programming in a range of languages, including python, R and C++

Cloud computing and the internet of things

Digital innovation and leadership
Find out more about how the Institute of Coding at Newcastle University can work with you to create a bespoke CPD training for your organisation.
[2] https://assets.publishing.service.gov.uk/government/uploads/system/uploads/attachment_data/file/550866/Wachter_Review_Accessible.pdf
[3] https://www.rcplondon.ac.uk/projects/flexible-portfolio-training
[4] https://www.hee.nhs.uk/our-work/building-digital-ready-workforce