Newcastle University is world-leading in its ageing research. But did you know we're also world-leading in challenging the stereotypes of ageing too?
In this blog, we share the work of two academics from different faculties in the University who are taking action and ensuring we can all age better together.
The academic breaking taboos about the menopause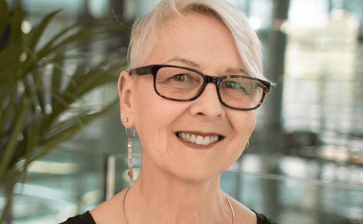 The press is awash with negative stories about the menopause, and a recent rejection of the proposed 'menopause leave' for workplaces has furthered our hesitation to talk about it – despite half the population experiencing menopause in their lifetime.
The Menopause Charity estimates that ten per cent of the female workforce need to leave their jobs when they go through the menopause because their workplaces are not supportive.
One academic hoping to challenge this taboo and share other – more positive – stories about menopause, is Professor Karen Ross, Professor of Gender and Media at Newcastle University.
The first step is to understand menopause as a natural part of a woman's life.
Professor Ross's recent research project showcases the experience of women in the UK and Uganda during the menopause. Women came together to create their menopause 'moment' in wool, fabric, thread, ink or paint.
Of the women interviewed in Professor Ross's research, many worked in Higher Education (as the study was a joint project with Newcastle University and Makerere University). The study revealed that academics had lost their confidence to teach because of brain fog – losing their train of thought halfway through a lecture. Others talked of the dismissive sideways comments about "oh, don't mind her, she's menopausal," or the embarrassment of hot flashes in the middle of a meeting, with everyone pretending nothing was happening.
Menopause affects all aspects of life, not just the women who are going through it. It affects their co-workers and managers in their workplaces, it affects their friends, families and relationships.
Newcastle University has developed some proactive strategies to create a kinder workplace for people experiencing menopause following Professor Ross's research. This includes:
An animation focusing on the emotional impact of the menopause that has been used to support the learning of medical students.
The recruitment and training of a team of 'menopause champions' to offer support or signpost to relevant help and advice.
Regular 'meno-meetups' for colleagues to share their challenges and experiences in a safe and supportive environment.
Professor Ross plans to direct a stage play later this year which will expose the double standards in how men's and women's health are regarded in society. She will also be sharing the findings of her research at a keynote lecture on campus on Saturday 11 March, which is free and open to all students, alumni and colleagues.
The academic uncovering ways to reduce the risk of dementia
The World Health Organisation reports more than 55 million people live with dementia worldwide, with nearly 10 million new cases every year. Although dementia mainly affects older people, it is not an inevitable consequence of ageing.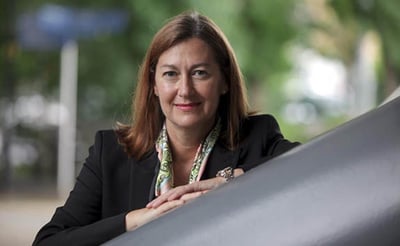 Professor Dame Louise Robinson, Regius Professor of Ageing at Newcastle University, has been researching lifestyle changes that can be implemented to reduce the risk of developing dementia in later life.
20 years after the landmark Cognitive Function and Ageing Study of the 1990s, Professor Robinson led a study of over 10,000 65-year-olds. They discovered that the rate of dementia amongst their cohort was almost 20% less than had been predicted from the original study. That led Professor Robinson and her team to conclude that lifestyle factors like a good diet, regular exercise and not smoking could prevent dementia completely – or at least delay the age at which it came on.
There is no known cure for dementia, and so funding and support for long-term care is also a big priority for Professor Robinson, who began her career as a GP.
Although there has been a lot more research in the last couple of decades, I'm not sure it's had an impact on practice.

We have some drugs now that are not curative but do improve quality of life and slow down the progression of dementia, but in terms of specialist services, there are considerable and unacceptable inequalities around the country.
Newcastle University is home to one of just three Alzheimer Society Centres of Excellence on Dementia Care in the UK, and the only NIHR Global Research Group on Dementia Care and Prevention. Both of these facilities are led by Professor Robinson.
A central aim of the research funded by The Alzheimer's Society at Newcastle is to improve the resources and knowledge available to GPs so they can give good quality care. This will be facilitated through the development of a shared care pathway that is sustainable and feasible.
---
Hear more from Professor Robinson and Professor Ross
Professor Louise Robinson and Professor Karen Ross will be our keynote speakers at the inaugural NCL in Action series, taking place on Saturday 11 March.
This free event is open to all alumni, colleagues and students at Newcastle University and guests are welcome to join us either on campus or virtually, with the lectures being livestreamed via Zoom.