We're leading a new alliance of researchers, innovators and manufacturers in the north east of England. Read on to discover how our local alliance has a global role in the drive to electrification.
About 10 years ago, Japanese car manufacturing giant Nissan elected to use their Sunderland plant to manufacture the Leaf. The Leaf is a battery electric vehicle and so a battery plant was built alongside the Nissan plant. The investments established the north east of England as a key contributor to the global motor industry's transition to electrification.
Today, the actions of manufacturers, researchers, policy makers make clear that electrification is the future of the automotive industry.
Europe has started to make serious commitments to end the production of vehicles with internal combustion engines in 2035. This has set in motion a mass mobilisation of activity to build the battery plants needed across the world to supply the growing demand for electric vehicles.
The north east of England has emerged as the preferred location for the UK's first large scale battery Gigafactories. Britishvolt is on track to deliver a 30GWh battery plant in nearby Northumberland and Envison AESC plans to upgrade their existing Sunderland plant to a similar size.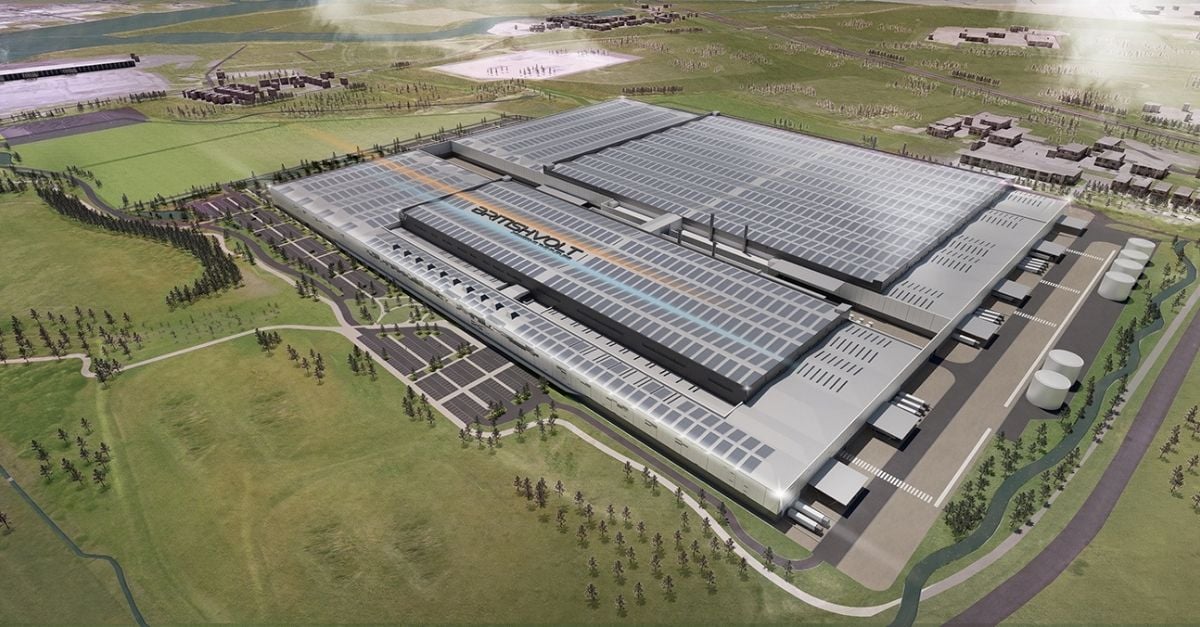 Britishvolt are on track to deliver a 30GWh battery gigafactory just a few miles from Newcastle University (credit: Britishvolt)
A unique battery ecosystem
This has created a situation that I think may be unique: within a 15 mile radius of our University you can find one of the largest car plants in Europe, two 30GWh battery cell plants, and an emerging supply chain.
We're also establishing a Driving the Electric Revolution Industrialisation Centre within that same geographical area. One of four in different locations across the UK, the centre will create open access facilities that support world class design, manufacturing, test and validation capabilities for power electronics, motors and drives (PEMD).
Advanced Electric Machines - an internationally-recognised designer and manufacturer of electric motors and powertrain systems, with customers all over the world - is also in the cluster.
Another exciting company in the ecosystem is Connected Energy. They build commercial scale, stationary energy storage systems that give used electric vehicle batteries a second life.
There is an intensity of activity around batteries and electrification in the north east of England.
This is exciting. But there are challenges, not least in how we address re-skilling and up-skilling so that the workforce can support manufacturing, its supply chain, and ongoing research and development.
Fortunately, we're able to draw from our region's long experience in this relatively young industry.
We need to both maximise the opportunity we have whilst tackling challenges head on. The key is collaboration: if we coordinate our regional and national resources, and collaborate fully we can make what is planned a success and pave the way for growth and continued success. We will create more and better jobs. We will be able to attract more people to the region to study and live.
Coordination and collaboration for electrification
Our University has been involved with the move to electric vehicles for some time - we took part in early trials of both vehicles and charging infrastructure starting in 2009. Our work in this space has grown over time and we are now home to two significant developments that can assure the coordination and collaboration that is needed to underpin our region's battery ecosystem.
First, the Faraday Institution is the UK's independent battery research institute. Last year, they established a regional office on the Newcastle University campus. The role for the office is to integrate our great regional research capability with national battery research activity.
Second, we have recently set up the North East Battery Alliance (NEBA). NEBA exists to bring together all North East England activity and ensure coordination and collaboration across the region.
Over the last two days NEBA was launched with a conference. The first day focussed on academic activity related to batteries and was hosted at Northumbria University. The second day focussed on industrial and public sector activity and was hosted at Newcastle University. Both days were over subscribed with attendees, exhibitors and speakers.
We combined keynote speakers with parallel sessions to identify the opportunities and challenges we have. Some things we need to tackle immediately, others are much longer term issues to consider.
Here are the key messages from our first conference:
Collaboration is key. We've started. Keep it going.
Skills. We must develop ways to reskill and upskill the workforce.
Let's continue to celebrate and promote the role our region is playing
The battery revolution is happening and it is happening now
Join us!
Through NEBA, industry, the public sector and the five north east universities will work together. A steering group will support individuals, business, and the public sector to drive toward their aspirations for batteries and electrification.
The North East of England is fast becoming the national hub of excellence in batteries and I'm delighted that our University is taking a leading, coordinating, collaborative role.